Galactic Summaries
Short Summaries from all past Events Channeled on Galactic Parties, Lunar Portals and other significant passages.
2023
Many posts are copied from Instagram (hence all the funny looking emojis :-D) and if you want the photo based post feed follow @yogamonks. The Energy Updates in between all the Portal Channels and more sharing of my Multi-Dimensional experience is available in the Diary here.
***Video Links to Vimeo of newly added Light Language Gifts from Channeled sessions this year***
...ON my Vimeo Account Showcase of the Earth Upgrade. Enjoy and may it serve you well.
21.03.2023 Equinox New Moon Channel Summary

A diverse channel today.

🌸an excitement energy was present at the start of the session with the GFL presenting yet another beautiful higher perspective message of nature, seasons, astrological year and more

💃🏽 🕺🏼 free dance and movement followed with further transmissions

Sun mantras brought in the Diamond White Light Codes of these portals to our Light Body with several different energy medicines including infusions to drink

🐉 finally a dragon realm message on energy work related to the Earth Mystery Portals by the Green Dragons of Gaia. These beautiful beings brought forth a message on the work done now for the New Earth rejuvenation processes and a request to all who wish to work with these portals to join with them.

They even asked me to host a session to do such a journey together and it's hard to refuse these beautiful beings. I will take it into consideration for future gatherings.

It was a delight for me to work with today's trance missions and I thank all involved and all who gathered for this gorgeous light experience 🙏🏾💛. In Love, Ka Ra
07.03.2023 Full Moon Portal Summary
The gate opened with energy medicine related to Kundalini Shakti and Root and Sacral Center work. It moved through yogic Mantra prayer medicine through honoring the Divine Serpentine Energy in both Masculine and Feminine aspects.
Then through Yogic Divine Feminine mantras clearing of left and then right side of the body. The right side also received Kriya Mantra energy. Then an honoring and invocation of Ida, Pingala and Sushumna Nadi to top it off with a Crown chakra Mantra invocation of the Lord of the Three Worlds.
Anchored right back to the root to end the first part after which we spent some time in silent meditation to rest and digest
Part 2 was GFL messages and Energy transmissions about the all important Heart Energy Field to be transcribed as soon as possible.
I feel quite worn out by all the portal activity lately and the channel and yet so calm and peace filled in my heart. Thank You to all involved
in Love Ka Ra
3:3 Gateway Summary
I had no idea what would come through today from my amazing Guides - and here is what happened:
A long talk/ teaching/ message about Time and how the structure of time is changing as we transition to a higher dimensional vibe and how to adapt to our experience of time changing when and where needed.
The context of time within all the other major upheavals happening ( financial, health, government etc ) and how it relates to the Earth Upgrade process.
There was a strong current of what this now moment energy is about and how it is assuring ascension and how these trials of accelerated expansion are bringing triumphs of multi dimensionality into our Being. Praise be the Suns that are providing these transformations.
Then came along an energy trance mission that seemed to be a large part of the recent light codes received by us all lately - in the form of A Time Reversal Anti Aging Serum - yes this was one juicy Light Language Energy Medicine and I can't wait to bottle it in the future
.
The channel only lasted 1 hour but it had speed and potency packed into it and we spent the rest of the time discussing what we received.
I'll transcribe this powerful message flow as soon as I can.
My gratitude to the GFL guidance and all who participated in sending and receiving today's communications.
in love, Ka Ra

06.02.2023 Full Moon Summary
- beautiful message on why and how to step out of linear time thinking
- invoking inner child and child like playfulness, wonder and openness
- a complete revolution of time - dropping linear time to recognize the oneness of spirit at any age, the ability to in the now moment access any age/time you've been or will be
- beautiful energy transmission called the Dew of Innocence to invigorate our cells with the energy of childlike innocence, freshness of spirit.
After the break a Galactic Light trancemission for Vast Cosmic Heart Space ( light codes to assist in remembering Galactic Family, Cosmic awareness ) followed by A Higher Heart operation of the 5th Dimensional Higher Heart. An opening, unblocking and recalibration of a valve on the top of the Higher Heart Center to better receive downloads/ energy transmissions from Crown descending into and through the Higher Heart Center. This for each individual in the gathering but also primarily as a Collective Consciousness Upgrade moment in the Earth Ascension Timelines.
After that we were done for the day - softening into another moonlit night - sweet goodnight and with deep love to all who assisted and all who participated in tonight's trance mission.
In Love, Kara
2.2.2023 2:2 Gateway Summary
Todays 2-2 at 2 pm we launched into the Channel for the Gateway of the numerological day and wow were we rewarded.
I had very "earthly days" up to this channel and had no pre-cognition of what it would be about. Happily surprised by
- the long held deeply meditative Higher Heart stimulation and activation guided by the Gatekeeper Dragons of the Gateways to the Higher Heart Consciousness. A key feature of this 2-2 Gateway incoming Light Codes.
Amazing download and teachings ( to be transcribed as soon as…)
The second half was a power blast
message on transmuting fear. A true GFL emboldening empowering message to the Light Workers Collective that I look so forward to transcribing verbatim so you can receive the power transmission that came with the words.
Thank you to all involved - this was such a blessing that will serve us for many many days ahead
In Love, Kara
22.01.23 New Moon Portal Summary
Beloveds, this new moon portal has brought in an intense lift of the light code activations ( I know I keep saying that but it's the times we are in so I reckon I'm going to have to keep saying this for awhile…), and today's gathering revealed deeper information about the type of codes and activations.
Firstly the GFL gave us a long and useful talk about the current world situation. How to stay the course and hold the vision of the Golden Age Gaia.
Very "pleasing and hopeful" in their own words described the vibe of the transmission which came accompanied with their message. I am several transcripts in backlog at the moment for past many events so I don't know when I'll be ready with this one but it's worth waiting for
In part 2 we received Light Language for Crown to Galaxy Star Chakra ( my own terminology) improved communication and Vast Cosmic Heart Space Heart Center Expansion of Boundaries and setting of healthy boundaries within that expansion.
We continued to receive energy work for setting boundaries ( a theme I've noticed recurring this week in my own Light Work associated with this new moon portal. I will write more on that soon.)
A beautiful energy medicine we can use for quick and easy activation of healthy boundaries in a crisis was received.
We ended with the usual grounding trance mission.
I had a big and rather heavy energy work job just hours before the channel and I was tired by days of portal activity but somehow I felt light and easy about our 2 hour gathering and indeed it was Light Work in all its meaning. Thank you to all who participated
In Love, Kara
6-9/1 Full Moon Portal Summary
Today we had the most lovely messengers - Unicorns - guiding us through Third eye activations, transmitting light and light language from their Being, guiding and informing on subjects of multi dimensionality, nature and the multitudes of creation.
The Diamond light codes dominated the energy, both with the Unicorn 3rd eye transmission and the energy medicine of these codes worked in such a way today that it was aligning and realigning the Ante Kharana and working on the back Heart energy field and the Heart Field before grounding into the Crystalline grid.
After this high note vibration transmission we took a break to absorb.
When I tuned into part 2, the channel was satisfied with this exchange after we rounded off summarizing the learnings from today's trance medium communications. It was and is a potent Portal indeed. Thank you all for your presence.
In Love, Kara
1.1.2023 has begun
1/1 Gateway summary…
I felt for some old school glamour with Galactic vibes to be the right dress code for today's 1/1 Event and it was sure worth dressing up for.
We received some channeled guided meditations and energy medicine to close the door on the old Year and walk into the new.
We chose to keep or drop certain threads of energy lingering from 2022 that needed continuation in 2023.
We opened to view the new year and all its potential and possibilities. We heard Teachings about numerology, energy and 1 / oneness.
We were guided in a ceremony for our new year, enhancing each individuals primary personal intention with the energy of the 1/1 beginning seed, power to allow the intention to have vitality throughout this year and serve our highest good.
We heard empowering and uplifting messages about the opportunities, Timelines, choices open to each of us as we enter the Golden Age timeline of 2023.
The GFL Pleaidian perspective took us through a whimsical guided meditation about creating a Light World. The best bit was to carry the
in our hearts and hands instead of our shoulders. Don't use the shoulders
.
It was truly delightful and by the end of the meditation when we were in 3 rd eye practice guided to meditate with the primary colours, when the grounding transmission was complete everyone was in a deep state of meditation or relaxation and we left the call so everyone could continue to rest in their own experience. This also meant that I could not impart the channeled meaning of the primary colors but I'm sure that teaching will come through at another time.
Here we are. With the whole world in our hearts and we in the world.
Happy New Light Year and may the highest good unfold.
What a great start to this Galactic New Year !
In love, Kara
22.12.2022 New Moon Channel Summary
Transcripts for December

Many new moments this new moon channel and some threads woven from the Solstice into today's energy tapestry that showed us a picture of:

💖 The Heart of Christ Consciousness and the thread of connection to
🇨🇳Kwan Yin - very special to channel this beautiful Buddha Master Goddess Kwan Yin for the first time - I declare Her welcome back. She guided us through a Diamond Kwan Yin 3rd eye activation to awaken the connection to mysticism, mystic realms in all their forms such as wizards, seers, unicorns etc
🔥 the feminine fire energy rising was another thread also drawn towards mother earth and
🌌 a galactic federation comm on there being no shortage of energy and further explanations on this subject. A great and humorous but also to the point reminder to use the "in house" resource to energy mastery - Mother Earth Herself as Teacher and Guide to all energy resources problems in life - She being a Master of rejuvenation and longevity and resourcefulness.

We ended with a beautiful prayer blessing for the holy days ahead and my own thanks giving to the group and all who assisted today's journey.

In Love, Kara

21.12.2022 Winter Solstice Summary
Transcripts for December
Beloveds, what a blessing to be with you to make conscious the Solstice Gateway of 🌍.

❄️ after welcoming a new face to our gathering the channel today opened right on the subject of the Equinox, with memories of its significance to the season, the planet and the cosmos.
💦 🌍 💨 🔥we were taken on an elemental energy awakening through some "new to us" light language and energy medicine. A reconnecting to lost knowing and innate knowing of the elements, their role in the equinoxes and the energy that is being generated from and for the planet each solstice Gateway for the next phase/season to manifest destruction and rebirth. Elemental energy, realm and beings was the focus of the trance mission.
💌 a message on the interconnectedness of humanity and earth, how healing is created through rebalancing and rechording to our natural and seasonal rhythms ( transcribed later on on the diary)
🌌 after the break a beautiful alignment meditation that tapped us into the current cosmic event of the Great Galactic Center, Great Central Sun, Galactic Sun, and our Earth through our own being, to receive this brilliant Light illumination to fuel our aura and days ahead. It was magnificent.
👼🏽 as we were absorbing this energy an Angelic Seraphim light came through and we ended the channel today with my drawing that Angelic light into our auric fields and into our homes for the holy days ahead, for ourselves and all who enter our homes.
🙏🏾with these light blessings and my personal prayers of gratitude to all involved we ended today's session.

Funny moments: at one point I said "to end the transmission today…" and before I could finish my sentence zoom shut down and I had to restart the meeting ( haha words have power 😆 ) and also I specifically announced today as a gift from me to you ( it was a seasonal gift to my community of clients and practitioners, and spiritual family) and indeed my Galactic Guides took it literally and they did not join today's session at all🤣. It was all channeled by me directly as Kara priestess of the Golden Ray and my Higher Self. My gratitude to all involved in today's transmission.

In Love, Kara
12:12 Stellar Gateway Activation and Self-Mastery Meditation Summary
Today's journey 🙏🏾✨💛 I am so grateful to be able to give and receive so much from these channelled gatherings even when I feel so wiped out myself by the high vibe light levelling up of last few weeks upgrade energies. Phew 😅
- it was rewarding to have the sweet taste of Inner Calm energy transmission open the channel today
- GFL teachings on the relationship between Inner Calm and high self mastery, how to approach situations where we lose our calm and how to actively consciously work to heal ourselves into mastery - 💥 it was GOOD!
After the chat and break:
💫a truly crisp star light energy transmission and message from new Guides speaking and moving us through 12 Chakra activation and Stellar Gateway Light Code activation for Galactic Origin, StarSeed origin and multi dimensional awakening. This a typical and reoccurring theme in our sessions but today a notably different step in this subject as well as type of light code and light language that came with it. Crisply high in frequency followed by a grounding and anchoring.
I closed today's session with heartfelt prayers from my Higher Self Heart Song.
Thank you all - now I will continue to sink into the druggy drowsy state of energy activations and integrations as there seems to be no pause in this process right now.
See you soon - perhaps on Wednesdays third eye chakra workshop ?
In love, Kara
08.12.2022 Full Moon Channel summary
One of those channels that has me smiling unstoppably from the moment we begin 😊…
🤩 such a joy, playful and abundant energy coming through from the GFL today tuned into the full moon and the 8th, infinite abundance codes and a very timely message on abundance, joy, the cup that runneth over, the Golden Light and how to stay abundant and thriving
⛪️ at one point we were tapped in via myself Kara and the Golden Ray Temple of Ra abundance codes and activation of Golden Eye in third eye center with a golden elixir dripping down our spines! Whoa ✨
🏆 Activation of both outer and inner abundance codes, the knowing of abundance.
Awesome verbal guidance on abundance, joy, multi dimensionality and moon phases and timelines both individual and collective, moving into Golden Age.
A wonderful new experience in the form of light language written in ether given as an individual transmission for everyone in the group. A very short and sweet moment one to one. The channel today started and ended with this etheric light language writings with the smoke.
Great talks on how to practically use what today's energy brought our way.
We won't forget those playful dragons 🐉 with their golden egg "football" game, playing abundance into our beings and their potent light language to activate inner dormant abundance codes.
(Video in next few days…)
Thank you all for a delightful evening meditation event and thank you to the gorgeous moon whom I am so activated by these days that sleep is scarce and energy downloads and anchoring in heaps and spades.
Channeling takes a lot and yes I am worn by it…but still smiling…
Hope to see you all again at the 12:12 Gateway in a few days.
In love,
Kara
22.11.22 New Moon New Light
Nov 22, 2022 New Moon Transcript
Just came out of the beautiful daytime channel for the 22.11.22 gateway and New Moon Portal and there was so much newness today.

New Light Language prayers that I haven't heard through me before - even in English ( video perhaps to be uploaded later ), and stunning Galactic messages of the Diamond White Light and Christ Light Codes, imagery of a chain of heart links that are connected to one another as well as up into the Divine Heart - how each hearts connection to the Higher Heart and Divine Heart strengthens the whole chain of links in the Heart Center Energy Unified Consciousness Field. More when the transcripts are ready as there was guidance about the Guardians of Gaia and how to act/balance ones energy if we are among those who feel the planet and feel the planetary and collective consciousness and are affected by it. Also a beautiful message about the Eternal and the Stars energy.

After this Galactic Heart Space Light Codes transmission into our hearts we took a break.

Upon return the Cosmic and Galactic Light Codes continued in the form of healing, with messages on the accessibility of Cosmic Energy into Collective Consciousness being at an all time high and how it is burning the Old Timelines that no longer serve or are harmful for the Collective.

We then received an Ante Kharana Energy alignment and grounding sequence followed.

In the time that followed we had a short but good chat about this and that from today's transmission and now it's time to continue digesting and absorbing 🙏🏾😃.

Thank You All Guides and Guests 🙌🏽🌚 🌌
In Love, Kara
1111 Ascended Master Gateway channel summary ✨
Link to transcripts from the 1111 week of events.
I am actually having trouble remembering all the intricate energy codes that came through on today's gathering and will have to refer to the future transcript for precision but off the top of my head ( which is funny cos that is where I receive and sense most of my channeling portal energy 🤣 )…
I rang in the number 11 and soon we were bathed in the blissful 1111 portal energy that I have been able to sense for a few days now. This meditation held us for a long time whilst the Galactic Guides presented a teaching on Ascensed Masters. Here I definitely will refer to the future transcript for the beautiful verbatim message.
Some specific guidance can through also for the members in the gathering regarding power spots in the world where Ascended Masters have walked and to follow the calling of the Soul to visit these places to connect to our Ascended Masters Lineages.
Christ White Light Codes and some Light Language Energy Medicine for 3rd Eye access to the Ascended Masters Portal and opening pathways to connect to Ascended Masters also did take place amidst all the guided messages.
After the break we were taken through Angelic Energy in the form of Guardian Angel Energy/Inner Child wounded wings healing energy medicine/Angelic Infinity ♾ Codes and watering of the Angel Seed Energy in ourselves. An Angel Realm LL Song and Choir frequency trance mission was our end note. After I grounded this trancemission we had a little chat about our 11:11 experience and closed as always with our gratitude prayers for The Guides, for the Ascended Masters, for the Angelic Realm and one another.
May this Light fill our well and then be shared with others so that others can find an oasis in us.
Thank you everyone for this blessed journey today.
Om Namah Shivaya.
In Love, Kara
06.11.2022 Full Moon Channel Summary
Beloveds, what a fun night - thank you for all the love to each of you in the galactic ring tonight as well as the GFL Pleaidian Guides who spoke through the first hour and the stunning Dragon 🐉 guides who conducted part 2🙌🏽🙏🏾💛
The GFL opened the evening with an hour long talk and active energy transmission / operation for career counseling! Yes career counseling - it was ALL about jobs, roles, the new timelines, changing of jobs, discovering the now purpose of the Soul, clearing confusion around Free Will and Thy Will, how the True Heart Desire is always God's Will and the job is to follow Ones Heart Energy Consciousness Desire. Great talk and energy operations to assist the Heart Consciousness Expansion of this time.
After the break my Channeling Energy was cooking on full steam and when my "channeling gymnastics" started to happen we knew something new and big was incoming. And the reason why I chose my stripy sweater and why my hairdo had an accidental tail to it today became clear : dragons 🐉!!
The Dragon Realm did not disappoint. A journey of new Light Language ( first time I channeled a Dragon Realm Sound ) with accompanying mudras (again new ones ) and energy work to source the secret wisdom of the heart, the hidden soul desires, to assist in the process of bringing forth our new roles, jobs, and gifts that will support the Golden Age transit years.
The trancemission was named Dragon Heart Light Codes and was a 6-9th Dimensional Dragon energy.
So much love, laughter and wisdom was shared in this joy filled evening among us and feeling so grateful for this precious play and time 🙏🏾💛in Love, Kara
31.10.2022
Transcripts of all October Channeled Messages
24.10.2022 New Moon Channel Summary
Such a beautiful prayer meditation we wandered with today. Thank you all. In brief:
🤍we did work with the pre-cognized energies of this portal ( see previous post ) however in a very specific way
🤍we were guided to pray for and transmute the suffering of those who walked on earth before us within our human lineages who lived in times of spiritual suppression, where spiritual gifts were not honored, valued and even attacked
🤍we prayed for the men and women who either were the suppressors or the suppressed in our ancestry including aspects of the witches/healers as well as the denial/suppression of masculine and feminine intuition
🤍it was emotional as we prayed for and released the heartbreak and pain of those who could not use or bloom their spirituality as they were born in unfavorable times for those qualities to thrive at the time
🤍we transmuted all of that suffering and loss into Love, a return to God
🤍we worked with our lineage but also for the Collective as the GFL guided us on how this process is part of the plan of the overall ascension and how these energies, spiritual stigma, misunderstanding, abuse etc must all be healed in the 5D presence
🤍at the end we received grounding and aura shield transmissions as well as a Sushumna Nadi ( astral nerves central column ) expansion and anchoring to be able to increase our capacity to receive, hold and anchor higher vibrations of light.
🤍the heads up for the 1111 and the major lift of vibration it is bringing into the Collective Consciousness
I feel like I've missed subtle details of this beautiful evening assisted by the GFL, my light language songs and prayers, Mary Magdalene, Mother Mary and Green Tara among others - but that will have to wait for the transcript when I get to it.
So grateful for these beautiful journeys that open our hearts to God, Goddess, Source.
I had some extra candles on my set today to raise my palms to Diwali the Festival of Lights and may we all ( as the GFL said ) navigate this eclipse season shining Light on the shadows of the Soul.
Goodnight sweethearts🤍💛in Love, Kara
Summary of September Solstice Week Channeled Message transcript.
1010 Galactic Gateway Channel summary
🐉 Ethereal Light Dragons transmission - who assisted in opening hidden pathways, secret chambers and nooks and crannies in our Bodies that contain dormant powers and hidden treasures of our Divine Blueprint
🤍 White Light Codes pillar of light download,
Connections to our Divine Blueprints, the connection to the Father and the Son, the Jesus Christ White Light Template and how we can follow in the "footsteps or footprint" of Christ to connect and awaken our Divine Template.
We also received one aspect of the answer to the question what is the difference between Gateways and Portals with a lovely teaching on the body, the divine templates, the way we hold ourselves affects the Light we emanate and the Prism we become for Light. How gateways and portals are inherent in the divine human design ( as well as in/throughout the Cosmos) and offering us means to engage with other dimensions and vice versa.
A gateway in the upper spine was explained, giving many of us an understanding to the ascension symptom that has been dominant last few weeks - neck and shoulder discomforts.
🏾All the new information, mudras, energies and hints at how it all connects to us the human being and to the greater creation of Cosmic proportions. Just mindblown.
🧘🏽‍♀️ Very yogic energies today again- alignment/ physical structure/ posture.
Stepping up to a new clean White Blank Page start in 1010, using the ancient Divine Templates to manifest the new Humanity for the Golden Age.
Amen.
In Love, Kara
09.10.2022 Full Moon Portal Summary
Goodness Gracious Guides! Thank You for all that was brought forth for us today.
the much loved and rarely experienced Cosmic Dance trance mission courtesy as always of the GFL Arcturians and today threaded through with Shiva Consciousness, the Cosmic Dancer, messages to take part and place in the cosmic dance, wise words on empowerment, true power and a succinct teaching on Ego and True Power. So good - can't wait to transcribe this part verbatim! Stay tuned.
During and after the divine Cosmic Dance energy transmission ( hopefully on video in next few days ), we received Galactic Light Codes for Balance, Harmony, Yin Yang
of the Cosmic Dance, and finally anchoring and grounding with a long held Tryambakam Mantra and Mudra chant, Holy Trinity Codes, 333 Codes, hinting at the 369 significance numerology and the 9th today ( and we were 9 Embodied Souls in the meditation today
), and a vibe that this last part is likely to return in the future days.
After the break we discussed how to use the themes and energy codes in our own personal meditations in the days after the portals and also how it points to significant galactic and earth upgrade timelines such as the upcoming Ascended Masters Portals. We were really left with that sweet note in today's never ending meditation with the word Yeshua heralding the beautiful peace and love codes of Jesus.
Writing these brief summaries is one of my favorite post-channel rituals, when I reflect on the beautiful journey and remember and rechord the gifts. I am so grateful for all of this
, thank you to everyone.
As I said to a dear guest who expressed how wonderfully relaxed she felt as a result of the trance mission: "I do believe relaxation is the secret to everything here in life."
Sleep if and when you can and enjoy these generous full moon days Beloveds.
Todays journey is bound to continue on the 10:10 Galactic Channeling Event tomorrow. Welcome and welcome back
In Love, Kara.
25.09.2022 New Moon Portal Summary
Pic 1: Whoa
this one had me groggy and drunk on portal energies for several hours before the channel opened with the group.
Pic 2: as soon as the channel opened there was the most magnanimous energy vibing through and carried on for some time as a pure silent LL energy transmission.
Pic 3-6 a tuning into Arcturus/Arcturian communication through mudras I was introduced to by the Arcturians earlier this week. As usual for me tuning into this potent 9D energy involves some head/neck gymnastics and effort but it's worth it. Incredible Beings!!! I wasn't expecting these mudras today but as it was I was able to share their use and message with the gathered group. Tuning Forks and Arcturus StarShip Mudra.
Today's message (from Arcturus Fleet Commander in Earths atmosphere) is an overall thread of messages that channeled through all week and I will present a summary in the September retrospective later this week. For now: it was an energy transmission for Arcturians making First Contact with Ground Crew and what that is about and what to expect and how to facilitate it individually.
Pic 7- this whole Arcturian comm ended with an unexpected Yogic Mantra Chant Anchoring and Grounding Transmission which was very lulling. ( video later )
After the break I had a chat about my weeks experiences of messages with the gathered group.
Last pics - we receive a "written in the ether" LL transmission of Remembrance Codes for Star Seed Origin and the session ended where it began: with Light Code Transmission coming through this New Moon Portal: Luminescence, Luminary, Luminescent Light Codes to enhance our natural Light, to assist us shining and sharing our natural Light, to become Suns upon this world shedding Light on all around.
The Guardian Angels joined us last but not least in a message of soft, devoted, gentle service towards us who are in their charge. A reminder to call on the Angels.
After a bunch of gratitude prayers for All and Everything in our shared space of the evening we ended the channel.
Gratefully, Mithila Kara
Summary of September Solstice Week Channeled Message transcript.
22.09.2022 Autumn Equinox Gateway Summary
The journey began by the GFL taking us on an energy trip to a Shamanic Equinox Ceremony where the beat of the drum was guided by the Light Language and we were guided to release the remains of summer from our being and to open to the new season ahead.
Then we were invited to an Ancient Egyptian Sun Worship Ceremony through pure energy transmission and some movements and mantra. The GFL spoke beautiful things about the Supreme Being the Sun and we took time to honor Its Name and the role the Sun plays in the Earth Upgrade.
We were encouraged to widen our perspective on what life, creation, the magnitude of beings and existences to a galactic perspective such as our Sun being one such Supreme Being.
After this Solar Meditation facing the sunset from our homes and listening to the beautiful messages of the GFL we returned after a break to a Crystal Clear Communication Energy Transmission to be able to open up or deepen our abilities to communicate with our Crystals, the Crystalline Grid of Gaia and activating the Crystalline DNA codes and the 12 Chakra alignment.
I had to improvise for this part of the channel with a headpiece to hold one of the crystals where I was being guided by the energy to do.
I had the same trance mission come through with even further messages earlier in the day so it's part of a larger energy update for this week and current portals and I will be sharing lots more on this as soon as time permits.
We had such good times during our 2 hour journey and laughs / thank you to All Involved - goodnight
Kara
11.09.2022 Full Moon Channel Summary
This gorgeous full moon is staring at me through the window as I sit to write the summary of tonight's full moon channel. (Images and short videos always first up on @mithilakaraenergy instagram. Follow me there for those updates.)
Beloveds, the energy codes coming in have shifted gear yet again and we find ourselves in some sultry liquid light codes that have the highest good at heart. The recent Galactic Light Codes and Merkabah Light Body reorganization codes of these September energy portals have now been channeled through our gathering.
( to this I must add that the Merkabah mudra and downloads abort the Merkabah have been active these past 10 days in my channeling)
We started the evening with a chat about my galactic channeling anniversary, what I have seen and understood so far about the Earth Upgrade Process. Then we went into the channel.
It all began with preparing the energy field for receiving today's trance mission. ( I will share the start of this in next few days in video for all to receive)
Then a 12 chakra activation energy trance mission
A torus field activation and Merkabah reorganization ( all done by GFL with primarily Pleiadian Guidance) energy medicine trance mission
This process was long, and as chuffed and satisfied as they were with their own work and grateful for us to anchoring it, my foot and leg fell asleep completely as I was held still while transmitting the energy. In a moment of deep love they offered me their gratitude for my service as a channel and I was so moved to tears
.
After this highly interesting energy work was grounded into the the Gaia grid we took a much needed break to stretch our legs.
After the break further talks. The energy work we received was so demanding in nature both for me the channel and the gathered souls. It was enough and after a long song of gratitude for all we have received we reluctantly closed our Zoom meet. So hard to leave the connection we create together on these meditations together with our galactic families. What a blessing. And again it tickles me that 11 embodied souls were on the call on the 11th.
9 at our 9:9 portal two days ago. 9:11 thank you and goodnight
in love Kara
09.09.2022 Portal Summary
September 9th, 99 Portal Transcript
It opened with Galactic Centre Energy, Galactic Light Energy Trance mission
Followed closely by the Lotus Mudra meditation to collect the Light Codes to the Heart Centre
Followed by the Blue Ray Light Energy of Mother Mary and Christ Consciousness, in the form of the Blue Rose placed in the centre of the Lotus Mudra and Aura Sphere meditation of the Blue Ray Light Energy from the Heart Centre and expanding out into the Aura
New Messages from the Galactic Federation of Light about Humanity and Multi-Dimensionality and where we are in the 5D Process (will be transcribed and posted when possible)
After the break, back to the Galactic Centre Energy Transmission that went on for quite some time, guided and silent trance mission meditation.
We ended with precious individual trance missions for each participant - and we were 9 embodied souls (including myself) joining todays 9:9 galactic gathering meditation and I cannot but love the numeration.
A liquid like Trance Mission of the Galactic Light Codes this 9:9 portal. Thank You to ALL involved. Absolutely wonderful for me to be back in the channellers seat. Thank You for this deeply meaningful vocation.
11.08.2022 Closing one door and opening another
today we journeyed with the meditations of the closing of the Lionsgate portal and the opening of the Full moon of Aquarius
we received such Golden nuggets of understanding about gateways, the upgrade timelines, and how it all correlates to each other
a bold and beautiful energy medicine was channeled by myself as High Priestess of the Golden Ray which sought to extract doubt, uncertainty, and conflicting thoughts about oneself from the heart center, a brave breakthrough for us all was witnessed and
the GFL chimed in enthusiastically with this work to bring us into deep connection with self love and how they rejoiced and shared their profound joy and gratitude for the moment when our love touched ourselves deeper
we got a wisdom nugget about how the self love opens channels and portals and gateways to the cosmos and how this creates the communication flow with our Galactic family and MD awareness, through unconditional self love and how that is our primary job in life. This trance mission ended with a silence that was so serene and sweet to rest our hearts in.
assistance to bring our deepest wish to the surface and bathe it in abundance and infinity light and further wish wisdoms…
the sparkling love light vibration that has themed thorough Lionsgate was ever present today and in part 2 we continued to get understanding as well as integracion meditation guidelines in the form of Angel Feather Aura Brushing and Angel Wings Aura Shield techniques to give us further tools to calm nervous system and energy body agitations/burn out and to create breaks from information overload/pressure of incoming energies respectively.
Homework from GFL to write a love letter
to self during these days.
Thankfully it was an assimilation channel and not an activation one - timely considering so many of us have been on fire with the upgrade energies of the Lionsgate.
more info on symptoms tomorrow, right now I'm just enjoying deeply my post channel ritual of shower, bathrobe, buttered toast and reflecting on our experience and writing my summary of the event.
Everyone, thank you
in love Kara
08.08.2022 Lionsgate Channel Epic Summary
August 8th: 88 Lionsgate Portal Channel: messages that came during the first part of the channel
Epic! Today's Lions Gate Channel on 8:8 started at 12 noon and ended auspiciously at 4:44.
This is the first time that a channel does not end on time and keeps going and going from both the group meditation to my own energy jobs for the portal. Truly epic experience and to think that I did not even know what Lionsgate was a year ago (more on that on another day). The first part of the trance mission was energies pertaining to the whole Lionsgate portal time from end of July to the Full Moon of this week coming. The second part of the trance mission was the codes especially related to this day 8:8
once our 8 (yes! 8 on the 8:8 hihi) guests had gathered for the Zoom event it all began with a bubbling, joy energy being transmitted straight to our hearts
this was followed up by a Heart Light Code Activation, a Love Light Code vibrating frequency that pulsed around the Spiritual Heart Centre and expanded out into the auric field, and then went round the back to clear lower back heart centre to then become a flashlight of Love Light Energy beamed through us towards the ancestral/family bloodline humans who came before us
there was a long moving offering of thanks and settling karmic debts, and honouring of the human incarnations that had to happen before our own in the now moment could exist
The Lionsgate Light Codes among other things assisted us in this healing and transmuting process with the human ancestry, very beautiful teachings on interconnectedness, positive debt and human incarnations
After the break we received a lovely session with Sirian Blue White Light Diamond activation for the de-calcification of the 3rd Eye and a resulting anchoring of this expansion into the heart centre and through to the Earth Star and Earth Grids. Exceptional Light Language work that I have not encountered before. Archangel Michael assisted in the intagracion process.
After this group meditation channel I expected it to end as per past events, but I felt so strongly the need to meditate and stay on and I invited those who could stay on to join me. Whoa - that led to a whole other download and on my part energy work jobs that I was required to do for the Lionsgate portal. For the following almost 3 more hours we had:
Infinite Abundance Codes, also part of the many Codes coming thorough the 8:8 portal that we bathed in, danced through and became funnels for personal and collective abundance and replenishment. This was a long guided movement meditation and reception of abundance codes
we were then guided to clear Scarcity energy, Limiting beliefs on abundance from our Akashic Records, and we received a long teaching about scarcity and abundance (to be transcribed and shared in the future)
After this session my personal energy work really began to take off and it was not so much about or for the gathered group anymore though many stayed on to participate. Thank you!
I started to sense the Sirian and Lyran 888 code trance mission from Lyran White Lions Eyes to my 3rd Eye to heart to Earth and Crystalline Grid, the anchoring of this energy took unusually long and soon it became clear that we were moving through and beyond the Crystalline Grid into the Hollow Earth dimension, I was creating and maintaining a gateway that could move the 888 and other Lionsgate energy codes to the Hollow Earth dimension. Soon the Arcturian and Dolphin energy was at play in this work and assisting this. This job took a long time and once ended was followed by a Lyran Star Seed Activation energy code trance mission through the Diamond Heart Centre for the Collective. This was part of the Earth Upgrade Collective Consciousness shift energy work that I was required to do today. When all jobs were done and I felt it was time to end the work the time was 4:44. What an amazing introduction for me to the Lionsgate and I have learnt so much from this Galactic work today. Tired and grateful and wowed as always by this beautiful life.
28.07.2022 New Moon in Leo summary of channel
July 28th New Moon Channel: Akashic Record Transcript and Lionsgate Messages by the GFL

A happy and tired channeler I AM though not tired due to channeling but due to the Enormous energy experience of this time and these portals right now. It is super charged. Today's channeled event was a peaceful break for me in my own daily upgrade experience 😅.

♌️ after rolling through the great galactic roller deck of information the GFL settled on sending through a long and detailed Akashic Record trance mission. Super interesting and I will share more as soon as transcribed.
♌️ we got the what, how and why of the Akashic Records and a pure energy trance mission to help each participant access their own records when and where needed
🦁 after the break we received this portals and now time energy understanding and how to expect disruptive forces at times of expanded or heightened portal energies as it is now and how to discern what's what and how to clear what's not for you, encouragement to meditate more to recognize what's yours and what's not yours, what's for you and what's not for you
🦁 a beautiful energy transmission to awaken the characteristics of the Leo - boldness, courageousness, power and heart and more precise words that I will share when transcribed
⭐️ most of today's gifts were courtesy of the Pleiadians but at the end the Arcturians tuned into to confirm the White Light codes that are entering the individual collective and galactic heart spaces for high vibe transformation of the Heart energy at this time.

Afterwards relaxing myself with some dinner I gave thanks to God for this work and the ability to channel as I do🙏🏾🎁. So grateful for my gifts.

Thank you to all who joined in.

In love, Kara
12.07.2022 FullMoon Portal summary

Yes 🙌🏽 what a Trance Mission, thank you to all involved and all participants.

Personally this portal and it's Light codes have weighed heavy on me - as in I have been deeply affected and had to rest a lot to receive and anchor since a few days back. As soon as the channel opened I was greatly relieved of the pressure I had been feeling. Some portals are like that and some are just not, so far in this experience.

In any case I felt the greatest activity in the heart center past few days and that is also where the channel from the GFL this evening took us.

🌝Heart Center portal Light code Trancemission for a mega 45 minutes ( holding the heart mudra for the whole time on my part 😅yes my arms got tired! 😆)

🌝receiving a repeat on the message that the 5D upgrade is primarily "done" through solar Light codes
🌝a 12 chakra alignment and grounding of said Light Codes of this portal
🌝 experiencing and seeing the Galactic heart center, the vast cosmic heart space and what that means to the multidimensional process of awakening
🌝a quick meditation guidance for homework on how to read and see the personal aura
🌝a collective healing process on several levels that we received through Light Language ( video will be put up soon )
🌝and a talk/understanding about why the planet and different areas of life and many nations as well as nature are going through intense purging - understanding this as energy and vibrational shifts and the process of change and disruption and how to assist these stages of the process on Earth as She dawns the Golden Age.

In Love, Kara
07.07.2022 Healing circle ⭕️
…today was unlike any other in last months - it was more like a channeled energy meditation due to the presence of the 7/7 portal and the energy gateway of Sirius.

First we received a Light blessing through the Heart Portal courtesy of Archangel Michael. This healing energy was then given an opportunity to be sent out and shared with a loved one who needed it. We received and passed onwards.

The second phase was directly connected to the Sirius Stellar Gateway through a 12 Chakra and DNA activation energy medicine that was then later anchored and balanced in the Solar Plexus. Thereafter we were guided to the Third Eye and received an amazing anchoring of pyramid of Egypt energy - apparently it is connected to the Sirius star system and this energy was superb - for auric field purification and strengthening of the spiritual boundaries and sovereign shields. We were sat in this pyramid field for sometime until the aura energy medicine was completed.

Afterwards it was so easy to see/feel the clear boundary of ones energy field. Remarkable work! What else? I think that was it and quite enough for an hours gathering. Not the typical healing circle energy work today. Yet very healing nonetheless.
One of the intentional energy medicines that came through with the 7/7 portal that I could not verbalise during the healing circle was one of Past Lives and Higher Dimensional Timelines being brought into the present for healing (remembrance).
Thank you to all who gathered today🙏🏾


I write these reports to re-chord the energy medicine for future as well as to transmit the essence of what we received in our gatherings to all who read it.

May it always be for your highest good and bless and grace you as it has blessed and graced us.

In love, Mithila
29.06.2022 New Moon Portal Channel
"Galactic Federation of Light sending through a message to the Collective. We have focused on the water element here today and many of you worry about the environment and the planet and the health of the planet. It is your love for the planet that makes you worry about planet Earth now, the whole Galaxy is touched by your concern but we have good news for you. Planet Earth sustains Herself and renews Herself. Yes there is a great imbalance at the moment but one of the many reasons for the 5th Dimensional Vibrational shift into the Golden Age, one of the many reasons, is the need for regaining balance on the planet. And for planet Earth to regain her balance in all of Her elements, to return to harmony, the higher vibrational exchange, the 5th Dimensional vibration that is entering through the Solar powered Codes will assist in replenishing the planet to its pristine state. This is a process that is already underway and there are many Light Workers on the planet who work with the elements and whose primary job is to energetically heal the planet together with the Galactic assistance.
You are not alone in planet Earth is not alone but it can feel very burdensome from the point of view of the human being when you see such destruction happening on the planet for example the waters being polluted, and it is saddening, and it is heartbreaking but worrying does not help. What does help is that you as an individual human being recognises your power, we need you to recognise your power, so that every time, every time that you feel afflicted by worry or concern for any aspect of the planet we ask of you to recognise that you are worrying, catch yourself, catch yourself in the moment of worry, and we ask you then to recognise your power to ask for help and to draw down the energy of assistance to solve the very thing that you are worrying about.
And this assistance that you provide by asking for help, by calming yourself, by centering and aligning yourself and channeling through your own being assistance, guidance, light codes, calling upon all the beings that are available to assist in the processes of healing the different elements of the planet. You can do this and in doing so you will assist your planet, you will assist us and all who are working with all the elements on planet. This is what we ask of you, you Light being we ask of you to recognise your power and to turn your worry and fear into Energy Source Connection and let it flow through you into this dimension. So even as planet Earth vibrates higher and higher through the process of entering the Golden Age and through that process planet Earth herself along with all of Her assistance received from the Galaxy and from within Earth itself many of the disharmony's and imbalances that you witness and worry about will be healed, will be corrected, and even though this is happening and even though this will happen YOU can assist this process, you can make this process spin faster. Imagine that! Imagine if we all contributed to this process how much faster, in an instant we can change the world. This is what we ask of you recognise your power, transmute your fear and worry into actual thought energy aligned channeling. And just as we did today in this evening's meditation when you do this type of work even if it is not your primary job you can call upon and tap into and contribute to those on planet Earth and outside of planet Earth who do have this job. You can give thanks to them for doing this job consistently, daily and you can contribute your energy to that work and assist the processes that are happening for you and around you even if it is not your primary job. This is our message to the collective this new Moon, we thank you for being with us this evening for receiving the Throat Chakra healing energy that you drew down today for yourself but also brought in the energy of healing for this process into the collective consciousness. In fact this happens every time you do something of Higher Source connection for yourself you do it not only for yourself, but you bring in the vibration into the collective. That is why meditation is such a gift. It is such a gift to the world. Every time you meditate you are giving something, not only to yourself, but to the world and so it is."
05.07.2022 Transcripts posted from the Solstice Portal and...
The Solstice Portal had many messages to share with everyone. There was Energy medicine guidance on connecting to the Earth and well as on the subject of Fear and transmuting Fear. There was an energy meditation and further guidance on the I AM Presence and stepping into one's sovereign power.
Read the full transcript here. Though this is provided for free, donations towards this work is appreciated.
We also received guidance to review the messages of the 29 May Portal and the 6/6 portal as they are still relevant to repeat and absorb.
19.06.2022 Lunar Solstice Portal Summary
Highlights from yesterday evenings event on Zoom.
✨breath alignment meditation
✨guidance on resting, what is rest and how to seek assistance for resting
✨GFL message about this time and encouragement to revisit the last message from
02.06.2022 New Moon Message to all Light Workers see below and also 6/6 portal channel for definitions of Higher Self, I AM Presence
✨surprisingly the first hour was all transfused with grounding Earth grid energy rather than solstice sun energy
✨guidance on reinforcing the connection to earth and incarnation here with I AM Here (we also spoke about Guru Kriyaji's Yantra I AM Here and you can find all Her Yantras and other Spiritual Art Work and Services on kriyaji.com.)
✨part 2 further GFL guidance and talks on fear based vibrations and how to transmute this
✨empowering message on recognizing your true self and power to work with Light and how to do this in situations of fear
✨guided energy meditation and trance mission for I AM presence recognition
I thank all of You Beautiful Souls in our circle and the Beloved Guides for a beautiful solstice energy embrace evening and when the channel withdrew none of us wanted to say goodbye - therefore I invoked further assistance to assimilate, integrace and absorb this solstice portals light influx through Light Language for this purpose. Once that was done the evening and channel did feel more complete ⭕️.
During the I AM Presence meditation I saw us receive assistance from the Shri Yantra as well as the Diamond Light Diamond 💎 sacred geometric forms. Very very beautiful. We were also assisted by aura work with Christ White Light codes.
In Love, Mithila
08.07.2022 6/6 Portal channel part 2
Yesterday in the wake of the healing circle channeling energy I sat down to ask questions and guidance on the 6/6 Portal.
Would you like me to channel any further information about 66 Portal and any continuation of the download that I received a few days ago? Beloved Galactic Guides let me know if you need me to communicate anything further into the world?
"The time has come for each person to rise into their sovereignty, some have already paved the way and I've actually been prepared to assist the process of this mass consciousness awakening, and as it unfolds there will be diverse new roles and services required for people who are breaking free from their slavery, from their bondage, and as they become free they will need people in the beginning to guide them in the right direction so that they feel that they can trust themselves more and more, that is the role that many Light Workers will play moving on. For those who have not been through the accelerated expansion but who are now coming into the general Ascension timeline, this general Ascension timeline is assisted by those who have been through the accelerated expansion without which it could not have happened. The grounding of the energies prior to this general Ascension was absolutely key and has been moving now through the 5D energy realm into the 4D energy realm of planet Earth and now into the 3-D energy realm of planet Earth and have been thereby upgrading planet Earth energy field. Planet Earth body, a new energy body from the physical to the subtle is present now and as each person takes the step into their ascension, it is only a small step, for the energy field is already here and each person will begin to think, feel and behave, be different to what they have known themselves to be, and in this the choices will change and as the choices change in the beginning guidance will be needed to navigate the new era. Many things are changing including how you handle food, how you handle money, how you handle your physical body, new behavioural patterns will arise as you acclimatise fully into Fifth Dimension.
You are here and you are here for a reason. There will no longer be a separation between you and your Soul purpose. You and your Soul knowing will be one.''
What is the Higher Self?
''The Higher Self is your highest aspect of your personality, you could call it your best behaviour, or your most enlightened version of your personal self is your Higher Self.
The I AM Presence?
The I AM Presence is your aspect of God, is your aspect of God Light within you.
Your Higher Heart is the highest vibrational aspect of your Heart Centre and that which is connected to the Universal Heart Centre, the Galactic Heart Space, that which unites you with all other beings.
Being in the Heart Space and working through the Heart Space will be the most natural way to live. It has been blocked for quite some time, hence the slavery, hence the bondage but this breaking free of the Heart is the Soul's purpose for life and living on Earth. To live through the Heart, to speak through the Heart, to connect to the Higher Heart the unifying Heart of all things. Your Heart Space is so glorious you can hardly imagine it you can hardly imagine how glorious and beautiful your Heart Space truly is and it is your gateway. As you now know it is your gateway into the Galactic space, into the Vast Cosmic Heart Space, into the great expansion of space creation.
Is there anything we need to know further about the 66 Portal and was there any connection to Africa in the previous message that you sent through me?
''We wanted you to understand the image of slavery, being a slave which is most known and embodied by the African people, but there are so many other peoples on earth that have also been under slavery, through human cruelty but also energetic slavery through ignorance and manipulation of energy. This is now being lifted and that is the image we wanted you to understand, that this type of slavery of humans through humans or humans to animals or energy to humans, will all dissolve in the Love Peace Unity and Harmony of the 5th dimension alleluia alleluia alleluia.
What was the light language that was connected to the African vibe when I was channeling for this Portal?
The light language yes, it is a song of freedom, a song of freedom, that beats through the body through the Heart into the feet into the Earth (LL comes again)
Now you understand, now you understand, the message we brought through you in the last few days.''
6/6 Portal channel part 1

Beloveds, I love a natural and organic process when it comes to living life and now with my heightened channeling abilities I allow them to unfold as naturally and organically as possible. This means unless I am scheduled to channel for our gatherings or with a private client I do not activate that aspect of myself.

The only other exception is when my Guides call on me to channel information, energies etc and this can happen with and without prior notice 😁.

Yesterday, walking in beautiful nature (pic on Instagram), I started to feel very affected and weird and realised I was being asked to anchor energies and so I did for awhile ( using the mantras in yesterday's post). Thereafter I noticed I was downloading channeled information about the 6/6 portal.
The 6/6 portal of 2022 is named the Awakening Portal. The energy that has been flowing through for mass consciousness awakening in past few months in the energy fields (as written in previous channeled messages) is now entering the physical reality and the mass consciousness physicality. From now on we will see the awakening happen all around. Not everyone will go through accelerated expansion or feel ascension symptoms. Some will and some will not. Yet all humanity will be invited to ascend to 5D and will be able to do so with the energies of this portal incoming now. It has already manifested in the energy field and is now manifesting in phsyical reality for every human. The best way to receive this is to rest, be and breathe deeply as the vibration resonates deeply with the 5th Dimension and allows you to anchor it and embody it. After this message channeled through I started to feel a big weight on and across my shoulders like someone carrying something and I recognised the message was that we are now transmuting old programs of slavery and burden and struggle. The Awakening received in this portal assists in transmuting such programming and essentially is ''setting humanity free from slavery''. There was also a connection to Africa here, also in the Light Language that came through there was a connection or vibe of Africa, but I am not sure if it was actually about Africa, or a personal past life connection for myself, or the symbolism of slavery that I was to recognise in the channel by my seeing Africa as a message, and I was asked to work on this energy transmutation of releasing struggle, releasing from slavery during my walk. My inner sense on this is that it was to understand that with awakening the mass consciousness that has been in bondage, slavery, struggle is to be fully freed in the time ahead of us.
After awhile the heavy, burdensome and nauseating energy travelled through me and out and was transmuted. I will meditate more on this and see if further energy clarifications come through. All for now.

I will spend some time today to tune into this further and write up a channeled diary post for us all during the course of these days. Meanwhile I might see you tomorrow on my healing circle monthly gathering. Clear some energy cobwebs out of our auric fields and clean the pathways for new light code energies to integrace with ease.

With love, Mithila
29.05.2022 New Moon Channeled Meditation Evening
Transcription of message from GFL to all Light Workers
I did not have pre-cognition about this new moon other than feeling the portal opening a few days ago. However as we got closer to the Sunday evening gathering I felt the channel energies strongly readying themselves and myself for the event. And it was beautiful. Here a summary.
- it began with Light Language for the Higher Heart and Higher Self to connect and integrace with the embodiment of each person in the gathering
- we were then guided through a Diamond Light Vibration Meditaton first in the heart center and then opening out around us to surround us in this energy of the Diamond both in Light Vibration and Geometric Form.
- this continued for some time while the energies worked on our auric fields, and then dropped into and through our bodies into our Grid connection to Mother Earth, where we spent some time anchoring the Diamond Light Vibration for ourselves and for the Global Grid.
- in the latter process we had assistance from Zeta Reticuli Star System and their presence was also specific/personal channel for some of the people gathered in the group this evening
- After a short break we had Light Language and verbal guidance and messages as well as a process of igniting the Light Workers Heart White Light Flame to sustain us in holding the light in these times of 'darkness' (the dark is also of the light) and to assist us in our work. This beautiful energy was then sent out into all the corners of the world through our meditation and was very moving and expansive and filled with light and peace. We gathered back to ourselves and reluctantly left the Zoom meeting after our two hours together in this beautiful experience. I am so awed by these energy meditations and medicines and this beautful galactic guidance and beingness that I get to channel with all who gather on these sessions. Thank you All!
MESSAGE FROM ARCTURIAN COUNCIL April 2022
"dear ones, the divine plan is unfolding, there is nothing to fear, all is well, We are the Arcturian Council of Light and we are of the ninth dimensional reality and we have a higher perspective than most. And we see, we see what is unfolding, we not only see what is unfolding we are part of creating what is unfolding, planet Earth has a great deal of protection from the Great Cosmic Councils that work together to preserve Light, and even though things may look difficult, chaotic, completely out of control, we ask of you, of each of you, to remember this message and take a higher perspective. Hold that higher perspective in your own energy field and you will assist all the forces of Light that are working constantly through the chaos, through the great turmoil, through the many changes that are still yet to come on Earth, but know that we are in it, we are in it, we are in it with you and we are holding the Light. We have never been closer to planet Earth than we are now and there is nothing to fear. Help us hold the Light, help us raise the Light. We of the Arcturian Council of Light thank you for your presence, for hearing us and for assisting us. If and when you see us know that we come with love and peace, that is all."
This message was channeled on the April New Moon and I felt it signifcant to transcribe and share on this diary.
29.04.2022 Summary New Moon Channel
Video clip from Heart Song Space activation
Video Clip Higher Self Light Language of Gratitude from Mithila
Video Clip Light Language during Pleiadian Heart Song Space Guidance
Light Angels, Pleiadian, Arcturian and Heart Song
Wow what a magical evening - the vibe was so high I was shaking in my seat trying to stay grounded - that's what the Angelic Realm brings in. I thought it wonderful how these pics show light angels behind me
.
Graced we were:
Angelic realm guidance, presence and sound / song
Heart Song Space meditation to assist us to find the song of our hearts and our connection to Universal Spirit and teachings / guidance on this
Pleiadian stargate energy and guidance to sing more and the power of song and just how loved we truly are by our galactic family shared with humor and joy as always by these beautiful beings
Arcturian message to hold the higher perspective as the world changes / to help hold the light of the Divine Plan high as the galactic work proceeds to shift vibration.
And more talks…
Thank you to all involved and participating in creating this lovely vibe and space together
Some video soon, for now good night
With love Mithila Kara
13.04.2022 Golden Ray High Priestess Channeled Message
Dear friends, I have now transcribed yesterdays magical channel. It is linked on this separate page. Enjoy!
12.04.2022 GOLDEN RAY GATEWAY April 12th
Today I was called to Channel and work with Higher Dimensional Energies. Again this took place in the afternoon, beginning with a Heart Space activation and at first it was just as unclear what it was about, as yesterday (see past post).
Soon though a Space Journey began accompanied by my Guru Kriyajis music CD ( called Space Journey
). Together with Her music, my own words and LL sounds wove together magically.
My job, it became clear, was to hold a Galactic Gateway open ( not alone
) and I was channeling for the Golden Ray. This was a contribution to the process of Great Cosmic Consciousness Expansion and for Mass Consciousness Awakening for Planet Earth with specifics on Psychic Abilities Upgrades that opens from today.
The message revealed that there are several celestial bodies in alignment today in a rare unique way that makes it possible for this to happen now. As Divine Order.
I am now writing from the top of my head as I have not replayed the recording to transcribe yet. Will do so as soon as possible with all the channeled verbatim details but I wanted to share the gist of the message with you on this day when I received the direct experience. Right now I'm still reeling from the magnitude of the channel - it was massive - not in physical time but in power. I have yet to recover
.
I call it the Golden Ray Gateway as this was the primary energy my Higher Dimensional Self was asked to host and channel. There surely is more to todays Energy story than the aspect that I was called to work with and that other Light Workers might be sharing in their channels.
With hindsight I can say this was what was journeying through (on my post yesterday), or being prepared for that I could not quite name then. The energy portal for this expansion opened (for my sense ability ) yesterday and today it was held and journeyed out through the Heart Portal to here.
Wow! What a life!
and as we say in the YogaMonks School "I wonder what will happen when…" and we relax into the moment… to be surprised by joy
.
With Galactic Love, Mithila Kara
06.04.2022 GFL Message to all and with a Light Workers Message
Beloved readers, yesterday evening my beloved and I received a spontaneous call to Channel from the GFL. We have transcribed the messsage and it is rather long so I have linked it on this separate page. There is a special message to all Light Workers that are going through the Accelarated Expansion Process right now. (previously I've been calling it the 5D Earth Upgrade)
I also have a short notice for Light Workers right now. Recently I wrote about how the Ancestors Council called on me to make prayers to bring more Light into a situation. I assumed that it was my family Ancestral Lineage although I felt at the time that I did not recognize them the way I usually recognize the presence / appearance of my actual bloodline family ancestry. But they did look like a large Sri Lankan family photograph :-D... so I assumed it was some group I had not met before. I was right on the latter but not on the former. I did not recignize them as they were the Land or Country Ancestors Council. So I learned in this process that perhaps every country has their own Council overseeing the energy of the country and its people. So the prayers I was asked to do was for the current situation in Sri Lanka and after 2 weeks of daily prayers the 'job' I was recruited for came to an end. I give this description to exemplify the kind of 'work' or 'jobs' you might find yourself recruited for and to be able to recognize the energies and communications and also when the task begins or ends. Wishing you exciting Energy Experiences that enrich your soul and nourish your spirit while you live your glorious earthly life! With love, Mithila
44 Portal
I wrote updates for you below and the very fact that I woke up earlier today, was able to get myself in front of the computer and write you these updates etc...are all signs to me that my process of expansion is entering a new energy chapter. I am yet to find out if ''anesthesia will be administered and further operations'' take place this afternoon but certainly the day is different so far compared to past 2 weeks. Numerologically we have a 4/4 portal today as every month up to 12/12 has a number repetition portal day. Explore this in the coming months and see if you sense a shift of energy winds on these dates 4/4, 5/5 etc... Sometimes they coincide powerfully with Lunar portals and as it is now we also have Geomagnetic Change due to intensified Solar activity that magnifies all that is in the numerological and lunar portals even more. We can use this information to understand our own emotional, physical, mental experience. To discern what is of yourself and what is environmental or part of the expansion experience and above all to not judge too quickly or jump to habitual conclusions. Nothing is as it was. Begin anew.
01.04.2022 NEW MOON PORTAL
It's such fun to spend time with the Galactics - what a great evening we shared.
️ some space travel with sound and the Vast Cosmic Heart Space with the Arcturians opened our evening
What do you want to know ? Opened the floor for Q&A for each guest and that took us into many personal quests and responses, deeply moving!
️after the break we received talks on the great Galactic questions, universal life and how to relate to this and how to enjoy the process of expansion piece by piece
we ended with my Light Language DJ:ing
where requests were trance missioned into LL - that was a fun game and I look forward to more next time
️we ended with a strong LL song courtesy of (as far as I could sense ) an ancient Egyptian lineage connected to God/Goddess Ra coming through for us ( video in next few days - stay tuned )
Thank You Beloveds
Happy New Moon
Night night
With love, Mithila
19.03.2022 Meditative Moon Mode
This full moon was just outstanding for meditation. Did you feel it too? On Friday night after meditation class ended with my Guru, I continued to just sit and sit effortlessly long after class and from that space came a Light Language Trance Mission that I shared a few days ago on my igtv.
On Saturday we gathered for a full moon portal channel and I immediately felt that conducive meditative energy from the day before right there at our finger tips. I began with smoke and smudging out the winter decay to make way for spring bloom. Then the Arcturian Council took us into a crystalline grid patching meditation mission deep into the core of Mother Earth. Very beautiful way to plant seeds this equinox and to assist in the strengthening of the crystalline grid of Gaia. After a short break we entered prayer portals through my prayer recitations bringing us light upgrades and light language Trance missions and individual healing and messages/guidance for each guest in the gathering. This completed we received new light codes for our auric field and ended with grounding and integracion assistance as per always. And yet the time for our event was up and we couldn't end the meeting, we simply continued to meditate in silence and when I closed the zoom call 40 minutes past the end of the event the group was still there absorbed in their personal meditation. That is why I say we experienced this moon to be so very, very conducive to meditative being. Mmmmm.
Hope everyone had a bright and balanced equinox weekend. On my part the ancestral work continued in between the lovely portal energies and I wouldn't mind a bit of a Spring Break
.
Thank you to all who gathered and assisted our wonderful moon portal and equinox journey
VIDEO Full Moon March 18th
A gentle energy that came through in the form of LL after I had been sitting for a long meditation on March 18th full moon evening. May we bloom
22.02.2022
CORRECTION to below post: what I saw in the meditation that I interpreted as the Tree Of Life Sacred geometry, may acutally have been Metatrons Cube (which I was not so familiar with at the time I channeled the 22 portal). Either way it was a wonderful yantra meditation that we received but I feel now that it was most likely Metatrons Cube that was appearing in the sacred geometry of this meditation.
All Right everyone, the 22 Portal Presence Meditation did happen as predicted on Feb. 22nd at 2.00 PM Swden Local time. I (and my partner) were in a constant downloads/upgrace activity phase for 3 or more days until Monday evening and then it started to lift and I was able to do something other than lie down and rest and receive (and there were some interesting energy experiences in all this but that is another story!!) :-D.
By Tuesday morning I could feel I was more myself ( I have been on an offline retreat during this Portal as the energy was so potent and prevailing that I could not do anything else and I report this in case any of you have been in a similar situaton!).
I felt the portal opening for channel energies build as usual the hours before the ceremony that Patrik and I chose to have at 2 pm privately and not as a public event (though I felt some of your presence there clearly dear regular Crew, I will message you individually about that and wondeful to have you meditate with us even though not live on Zoom).
The video is now here for your receiving and repetition of the meditations. It was a subtle yet very full, a still but deep water session in the sense that there was so much energy trance mission to absorb and receive. They recommended that we use this mediation a few times per day or once per day in the next coming days following this official portal day to keep reinforcing and deepening the trance mission of the energies. I started with an invocation and opening of the meditation space and this particular Portals presence as usual (however this is not on the video but you can assume it is so.)
When you use this video light a candle, and use some form of smoke such as sage, palo santo, insence before you start your practice.
Then follows the 40 minute guided part of the Energy Trance Mission that takes you through a Tree of Life 10 Sphirot (Kabbalistic Tree of Life Sacred Geometry) meditation with assistance of ArchAngel Metatron (grateful!), then comes the Master number 22 Code activations and Golden Light reinforcement of this activation into the Auric Field, also we received individual assistance/downloads and a Soul/Higher Self Alignment and finally back to the Tree of Life and Metatron Energy. There are many spaces in this meditation to just be and meditate and receive, where the energy is being trance-mitted and there is nothing to do but just be in it. Enjoy, I hope it will serve you. After the first hour I took a break and then returned but when I asked further questions and waited for further trance mission I was told it was not my job at this time (to ask the questions I asked) and there was nothing else to channel, not even Light Language at this time. I was surprised but happy to rest as I continued to be donwloading and absorbing in the Portal Energy and still am as I write to you. Zonked!
17.02.2022 from @yogamonks instagram post
Full Moon 🌕 meditation highlights

I like to empty my head of the experiences as soon as I can after the event to enjoy all the many moments in meditation all over again.

🌝first we were guided by my Higher Self through a Moon Meditation, visualizing the moon, moon walking, moon light bathing etc a really fun visualisation Medi as well as a wonderful, steady, full vibration of moon energy and guidance in meditation
📆 followed by advice on the energy of the moon cycle and how to work with it and explore and master energies around the moon with a bit of astrology

💎 after the break a Diamond light vibration meditation with many layers of teachings
✨ pure energy work where the diamond light was cutting through areas in the auric field that needed to breathe
♦️guidance on working with diamond crystalline energy to precision drop into decisions and topics
📿 A totally unexpected but appropriate dive into a Pali Buddhist Jewel sutra the Ratna Sutta ( very lovely to return to my Buddhist spiritual roots with this chant - I haven't chanted in Pali in so long!)
🪡 threaded through by Light Language to integrate, expand resonance and to ground

I shared the diamond posture meditations that have been coming naturally to me in the past few days as a closing of our 2 hour gathering.

It was both relaxing and steady as well as sharp and piercing this evening. Ooof I feel like I've missed stuff on this list - so many moments this evening to recapture.

Thank you everyone who joined me in smiling at the moon and remembering we belong to our Galactic Family too. We are never alone.
Healing
This evenings circle started on the note of how I approach healing and that the only thing we really need healing for is our forgetfulness - our true healing is remembering who we really are.
This led us onwards to a breath of Life healing meditation,
the Pavamana Mantra gateway to light language and sound healing,
the Divine Dove of Peace energy descended to guide us through a peace healing meditation,
we were guided to send healing from our own fullness out into the world and once emptied to refill ourselves and flow in the life current of giving and receiving effortlessly,
we closed the circle with solar plexus healing ( partially on video - let's say I didn't get the camera angles correct today and didn't want to correct it in edit mode as I felt amused by it as is
),
and a Light Language channel at the end for Return to Remembrance and Soul Recall. ( video in future posts )…
how can so much experience be fit into an hour ? It's amazing but it does and it's divine
Welcome to the monthly healing circles
With love, Mithila
2022.02.01
NEW MOON FEB 1st

Whoop 🙌🏽 we have started our 7 days at home retreat with a groovy groove. I had one of the most fun Light Language channels so far with the guests gathered for the New Moon Medi. I made a short cut of clips on video to give you all a glimpse of the 5 minute LL session that came through at the end of our evening. Here also the longer video of the LL channel.

From the top of my head from the Galactic guides channel yesterday:

✨awareness on the self and the many aspects of self
✨guided through the question of "How do you know you are breathing" and taking us into the eternal part of self and the changing parts of self
✨how we can influence the changing parts and how the eternal parts are indestructible
✨Light Language energy work to support the 40 minute guided meditation
🌚guidance on the primary energy of this new moon portal the Golden Light vibration
💛3 meditations based on the golden light - one for anchoring Center to the Golden grid of Gaia, one for infusing the auric field with Golden light, one for picking up area sun life we wish to vibrate higher and infuse them with golden light
💛this coming week is exceptional to be in the Golden Light meditations so we will continue on those during this retreat week.

Thank you Beloveds for all involved in another New Moon Portal gathering. Such a treat for the whole Self.

With love, Mithila
16.1 Full Moon Medi
THE PEACE PORTAL
The New Year New Moon meditation a few weeks ago came with a message of Empowerment and acknowledgment of ones own power. Today's full moon meditation came with a potent peace.
Om Shanti Shanti Shanti
To our guests and Galactic Guides a big thank you from my heart. I love this work so much - I cannot express it in words.
From the top of my head what came through for us gathered on zoom this evening:
30 minute guided meditation on peace, being held in peace vibration. Just so good!
Message on how this moon portal opening has been turbulent energies last week but with the full moon days how peace codes are entering our energy fields as we exit the storms
guided meditation in effortless deeper breathing and absorption of peace codes
peace energy bath, full moon waters transfusions of peace into our energy field
incredible detailed vast cosmic heart space meditation and guidance to visualize, enter the portal within and move into ones multi-dimensional self, galactic and divine origin
teachings on the heart space and heart center
some LightLanguage energy work to end the evening
I am for always in awe of the beauty of these experiences
with love, Mithila
My own Higher Heart/Higher Self came through me, myself and I in the here and now ( first time I recognized the vibration to be my own Higher Self channel ) and with well wishes for all of us in that gathering.
This Light Language blessing of sweet light hearted joy for a new earth life year this 2022 to us all I now share with all of you - from my
to your
.
As this was at the end of our gathering, as always with divine orchestration, the channeling tuned into grounding of the energies for our benefit. I kept that part in as well on this 3:33 min video.
Camera angles / lighting etc … none of this in place - as I am spontaneous about what I film on these meditations and my focus is on the live event participants. I'm just glad I managed to press record
.
I hope you will receive good vibes from it. Close your eyes and just listen and feel it or watch the movements and the sound.
Up to you, if and how you choose to receive it
.
With love, Mithila
3.1.2022
NEW NEWNESS
The 1/1 and New Moon Portal opening was deliciously enjoyed by our group yesterday evening with ( yet again and with huge gratitude to) our Galactic Federation Guides.
From the top of my head what came through to the 12 of us gathered on zoom this evening:
guided meditation on breath and it's decision making abilities (similar to things I usually teach as a yoga teacher but this had the channeled guidance touch)
Teachings on patterns and how to reach the energy behind patterns we are trying to shake off including a fully guided experience in practical energy work choosing one such pattern
guidance on new moons /new Year portals and how we can use this coming week to magnify change in areas we wish to bring in newness including practical meditation on how to do this
lots of Light Language to accompany all the above including clearing of old energy from the aura and replenishing with new sparks of Light codes for the new Year
a new year LL blessing from my heart to all present ( once edited I will publish this part of our event as it was such a precious and new experience / recognition / remembrance awakening moment for myself that I want to share with all who wish to see it)
grounding of energies and integracion of the evenings experiences
I am for always in awe of the beauty of these experiences
thank you dear all who made this such an unforgettable start to a New Year!
we send and share all the beauty and blessings we received now to you who is reading and receiving this
This morning after not sleeping much as moon times usually are for me I wake up ravenous !!!
let's have a great day all
with love, Mithila
2021
Solstice Energy reflections after 4 pm
Dear friends, I have had the solstice trance mission and it did arrive at 12 noon as planned - the energies were just there for it, the channel portal opened and by 1230 I was in trance mission. I have recorded the message and I will upload everything on video for you to enjoy and I will have the transcription here as well as soon as is ready.
Although this was initially a paid event on the schedule - due to the change in nature of the energy today and how I felt it will no longer be considered a paid event. Donations not expected but always appreciated. The subject matter was a continuation of the Galactic Party downloads. On releasing fear based narratives and specifically about releasing Abundance Blocks.
GALACTIC Dec 19th short clips - this galactic was completely different to the previous one. Here some short clips from the trance dance elements of the mission.
Donations not expected but greatly appreciated for this Solstice Portal Message, Meditations and Energy Medicine:
Solstice Portal Mission Part 1
Solstice Portal Mission Part 2
I had recorded a 4th part based on LL sound and mudra that I invoked for the main messages of releasing fear based patterns and opening up to greater abundance and a beautiful energy medicine came through ....but it for whatever reason did not record, therefore it was received but not left on record to share.
-----------------------------------
Last week Monday, after the 12.12 energy shift I noticed that something palpably had changed in the vibe. I understood this to be that 5 D Gaia is now fully in place. What I felt as one of the first wave energy workers in the upgrade process (and you might have sensed this too if you have been part of the first wave...) is that we are fully in 5D experience but during last week there was still more shedding of old 3D paradigms happening. It was a tough energy week, a weird feeling overall up until Saturday the 18th evening. On Satruday evening around 540pm I noticed the Lunar Portal opening and with it, after this weird week of shedding, I felt that the energy shifted again and the feeling and vibe I interepreted was:
from now on we who have been in ascension mode should feel that there is less shedding and more being in the fifth and the new Gaia energies - less discrepancy between the old and new, for now we are not only fully in the 5th but have also shed the old 3rd and 4th remnants.
This, if my theory is right means, from now on up to the 21st and beyond it gets easier and easier to just, see, and feel 5th and be in the 5th, and from 21st there is another big energy shift for many more towards the 5th AND it becomes even easier to shift and shed the old paradigms. Does it resonate with you as well?
That is my intuitions on the vibe I sensed and take it if it resonates, otherwise just drop it. :-D.
If there is something you are wondering about and you would like me to write more about it or channel information about it, then please write to me and when I can I will answer here on this diary for all to read and share. If you need a more urgent answer or personal guidance then book a session with me instead. For all the free sharing, I get to it when I can and I hope it is assisting you.
20.12.21
Solstice Prayer Meditation and Q&A trance mission tomorrow at noon dear friends.
Today 6pm for the daily light of life prayer circle and we are just relaxing now after our awesome Galactic gathering yesterday evening at Arken Hotel - glimpse above of during and after.
From the top of my head:
ancestral and family lines healing energy and Back Heart clearing
guidance on how to release fear based patterns and thereby step into 5D
voice and sound activations
Arcturian 9D attunement and the Cosmic Dance
exquisite and powerful 12 Chakra anchoring meditation for multi dimensionality and charging our crystal with this energy
mantra prayers for Earth and that led to our own healing energy and further Christ Consciousness meditations
light language to assimilate the experiences
All in the presence of and guided by the Galactic Federation, Arcturian, Angelic, Ascended Masters and more celestial assistance
and our own gathered group live and on zoom enjoying the expansion and celebrating with refreshments.
After two awesome events we now know that we need to book 4 hours for these gatherings !!
Preliminary January 21st and February 22nd. Spread the word and gather with us on these exceptional journeys into your expanded awareness.
12.12.2021
Access the FULL Trance Script from this day. As it was a paid participation event we kindly request a €11 or pay what you can donation for this reading. There was a given information trance mission from the GFL but also a Q&A.
General Questions we asked were: What are the energy properties of inflammation ? , How does AutoImmune diseases relate to the 5D shift? , Will humans have form in the future?, How can we better handle the energies of shift?
short summary below:
Golden Age Gaia
There are those that are far more in the know about numerology than I ( as I have never studied it to any length ). Yet during the whole channeling process that I'm in the midst of discovering and learning I have been guided to work with dates, portals, gateways. I have started to sense better when a new energy wave is coming and moving through to be released into our collective experience and yesterday 11.12.2021 at 11-12 we had our beautiful sadhana gathering as planned but not as planned was the lovely energy we were able to receive and be guided by in a long and perfectly poised meditation that took each of us in the room and on zoom to where we needed to go. The channeling is rarely what I am expecting will happen and it's always a jewel of an experience.

Today's planned trance mission at 12 saw us receiving GFL messages as well as a Q&A session bringing us brilliant insights into healing, health and energy mastery. Today we also received further insight into why the dates and times matter as well as how new grids of energy are being and already are laid for Gaia's energy evolution. And oh the presence of all the Ascended Masters returning through this 1212 portal to be here for the great change that is upon us🙏🏾✨♥️ infinitely grateful to you our beloved Galactic Family. Will take some time to transcribe the full trance mission - will let you know when ready 🙏🏾✨🌎🙌🏽🎨🥳🤩

Love to you all on these days of light celebration in Sweden ✨✨✨✨


4.12 Lunar Portal Meditation Evening
...continued to bring us into the heart space of Love, Peace, Unity and Harmony - the essence of the 5th Dimensional planet that Gaia is becoming and the support of Father Jesus and Christ Consciousness awakening in the heart center in this process. Every channeled event is unique and yesterday consisted mostly of rosary prayers and through these we received moments of great ease in meditation and guidance of energy meditations that were just sublime. In particular a Light Code activation of our auric light field - to saturate it with Light and speed up the vibrations of the individual Light field and expand our own Light ability. Another memorable moment was when we were guided to see Mother Earth and to send our love to Her our sacred
physical home, and then to see Her sending Her love to us Her children. Always our Guides end each session in helping us grounding the energies with grace. So grateful for the high vibe guidance I am able to Channel on these occasions that assist all of us to Light Up and to be the Light. Thank you dear ones from all over who made up our small but powerful circle of Light on Zoom yesterday.
I appreciate your presence.
2.12
Is there any message for the coming time? Jesus Full Moon (Dec 18/19th...). What do you mean by the Jesus Full Moon (Dec 18/19th)?
This Gateway opening Father Jesus, Father Jesus, Jesus Christ Energy, Jesus Christ Codes, the Jesus Codes become more and more active in the planetary Light Code Activations from this point of 4h Dec. onwards up to 24th Dec. the Jesus Codes will travel in through this Gateway this Eclipse Portal and in the weeks to come up until Christmas building momentum spreading its Light spreading the Presence of Jesus into our hearts and minds, this is a type of Ressurrection, a Resurrection of the Christ Consciousness of the Jesus Codes. Amen.
You will feel the Love of Jesus coming to you on the Wings of the Angels. (I've been given the prayer to do on the portal meditation, I thank them for the guidance, it is one of the Garlands of Roses from my Guru Kriyajis teachings, a Master Devata Rosary).
"There is a Stargate for Christ Consciousness approaching the planet. This Stargate illuminates all hearts and minds into the Presence of Jesus. This Christmas will bring an awakening, a true awakening of Christ Consciousness more than has been for a long time, people will turn into their hearts to find Christ Consciousness more than ever before. This is a resurrection. Enjoy the peace that the Jesus Codes brings, activate the peace of the Jesus Codes throughout your cellular structure, throughout your celluline DNA, Jesus Codes will integrace with your human bloodline, restoring peace generations back, generations forwards, world without end Amen.
We thank Jesus, We thank Jesus for returning to help us establish Christ Consciousness once again. Christ Consciousness immediately elevates you to 5th Dimension and beyond, it is Pure Peace Crystalline Light Energy, Pure Love Devotional Light Energy, Pure Harmony Unconditional Being, it is very much the Fifth dimensionality. We thank Father Jesus for this Gift. Say your prayers, your prayers are received your prayers are returned, the prayers help you to elevate to the consciousness of the Pristine State of Mind, Body and Soul of Christ.
Prayers when done correctly are extremely powerful, pray with the pureness of heart, pureness of body and it will purify your soul and your destiny (this means it gives CLARITY), Galactic Federation of Light thanks you for receving this message. Share it with others."
I received some Astro information next. When I looked it up I could not make the info ''add up'' with the current Neptune and Uranus data as Uranus is now Retro and Neptune has gone direct so this reference might be about a future timeline example June 2022, that the portal opening happening now is activating changes for 6 months ahead. Again, I apologise I do not feel I made a confident reading on this channel about the astrology and I will need to go deeper into the meditations to ask further questions on this subject. Nevertheless here is what I received and I hope for further details in the future.
"Neptune goes retrograde (this is either referring to the ending of the Neptune Retro Dec 1st or to the future one June 2022), as Uranus goes direct, there is an astrological balance shift that creates an opening for cosmic consciousness clearance, clarity, clarity through the cosmos, this can be felt and received by earth beings, clarity, tap into that clarity in this stargate, Dec 4th, New Moon Eclipse Portal, powerful opportunity to tap into clarity consciousness, to clear once heart and mind of debris, and to see what truly matters to the Sovereign Heart to the Sovereign Mind and to move forwards with grace and ease through what is received in this stargateway. Peace restores clarity, the Jesus Codes help you to find clarity assisted by the planets Neptune and Uranus, this stargate is both Sagitarrius and Pisces, with strong influence of the Aquarian, the Sagitarrian Arrow is accurate, never missses its mark, hence the clarity, use that clarity to align your consciousness with the Higher Good, the Higher Dimensional Self, remember to take time to rest, the resting helps you to receive, the resting shows that you trust, make time for rest, make time to receive, give the gift of your inner peace to all the world, we the Galactic Council of Light adore and appreciate you."
19.11 Lunar Portal Meditation - the Pleidian Portal
Short video clip from the event. For the approx. 80 minute video channeling, e-mail me for paid access.
Lunar Portal Meditation Evening…

…Was another wondrous moment in these months of great wonder since my work as a channel began.

Highlights in brief from the top of my head…

( will update website plus video clips after some rest days).

✨receiving of activation keys for Peace in sacral and root chakra
✨cleanse of solar plexus
✨ receiving the new Light Grade Activations to our auric field
✨prayers for Mother Gaia through Gayatri Mantra and the names of Goddess with light language activations (one of my personal favorite moments of these Trance Missions - I'm just stunned by the beauty and power of the experience)
✨guidance on remembrance of ones multi dimensionality and relationship to free will
✨connection to the opening of the Pleiadian portal, how to meditate and receive Pleiadian assistance
✨awesome guided alignment and grounding meditation held us energetically and expansively in the higher self to grounded reality of 5th dimensionality, a very clear experience of here and now alignment and meditative beingness, such a great end note to our 2 hours together.

All of this received by us with gratitude to the Galactic Guides and Angelic Realm.🙏🏾

We are so moved and so blessed by this Mission and I'm happy to say that I've been asked to host another one for the next Moon transition on December 4th, 1800-1930.

Thank you to our intimate small gathering November 19th. 🙏🏾
16.11
Trance Mission 3:40-5:00 pm
I felt the trance state coming on for awhile before I sat down to download and the word that came through then was 'Pleaidian ships'. Then the Trance State begins with 3rd eye activations. Some toning.
''Lunar portal of Pisces Sept 23, closing of the gateway opening (that occurred then). Opening of the new Pleiadian Portal, Lunar Portal in Taurus, receiving the keys to the Pleiadian Gateway, downloading of the keys. Part of the 1111 Ascension Portal. 999. 999 gateway. Pleiadian Pisces Portal (vis: a fish symbol). Galactic Sensory Dimensions. Clearing of the Dependency Codes. Clearing of the Codes of Dependency (vis. 3rd Eye Chakra Vortex spinning), (vis a bat like, dragon like, prehistoric, reptilian with tail and wings creature). (at this point the 9D Arcturian Collective Gateway and Channel Portal opens for my channeling). (vis. 911)
''Look at the download from (November) 911, go back, anchoring of that energy today. That energy is being anchored through this Trance Mission. Many are going through big changes, they will need help, to understand what is happening. The Pleiadian Portal will help bring understanding to the masses for the evolution of consciousness, for the next stages of the upgrade. Akashic Record Downloads are being received by many individuals simultaneously at this time. This is an important transition of the Pleiadian Portal, that each person receives a direct connection to their Akashic record and their Divine DNA Blueprint, as designed by God Source in the name of Creation, Amen. Arcturian Energies support the planet at this time alongisde Pleiadian assistance. This is by command of the Galactic Federation of Light, part of the unfolding of the New Earth codes. As given in the 1111 Ascension Portal Download of upgrade codes. (I am going to add here that this is one of the most powerful energy trance missions I have received, I am barely holding it together with the Akashic Mudra, reclining, because I am so blasted by the energy, it is immense!)
''Heart Chakra energy, speaking through the Heart Chakra, (as this happens I have the very interesting feeling that I am not talking with my vocal chords but that the speech is moving from the heart - such a cool and new energy experience), we will be speaking more and more from the heart, we will be acting more and more from the heart, new energy dimension for people to be and act through the heart, through heart mind, we are giving you the keys for the heart activation through this Pleiadian Portal, new way of being and moving in the world will be known to all mankind, relax deeply to receive, we are beginning the grounding of the energy of the Pleiadian Portal today, this will accelerate, accumulate up until Friday, for the official portal opening and the release of the keys, for Heart Access, Heart Activate, Heart Modulate, Heart Based Being, keys for humankind. This is a massive upgrade that will be felt widely by the populations of Earth, largely supported by the Pleiadian ships, Arcturian ships surrounding the planet, we are so close.
We are so close. We are here, we are helping Earth we are helping you. You are helped. This is the next wave, the next acceleration...after the pure Pleiadian Channel, Lemurian Light Key Activations, Crystal Activation of the Divine Heart Center, (vis. sacred geometry and crystal in the heart center, the vibratory feeling of the channel voice coming through the heart is still strongly with me), Solar winds are blowing in to the magnetosphere, these wil be felt strongly in the Heart, they will blow through the Heart chakra cleaning and clearing and preparing the Pleiadian Portal Light Grade Activation, Lemurian Crystalline DNA activation, Dolphin Energy Activation, Dolphin Codes, Arcturian Energy Grid supports this process, it is in place already and is supporting this process. This will be felt widely.
Time will stand still, time will stand on its head, people will wonder what has struck them, be clear that this is for the highest good, this is for the evolution necessary for all humankind and for Earth, Gaia Earth Mother for the complete upheavel of the chaos that has been seen and felt. It is all needed, the darkness transmutes to the light, do not fear the darkness, see it as a necessary part of the whole transmutation into the White Light planetary evolution, it is all one. You will not recognise yourselves for awhile, this is normal for this evolution to happen, you will feel between worlds, you will feel a bit lost, you will feel dynamic shifts of reality, the timelines shift as you jump, those who have not yet jumped you will feel the jump, jump willingly, jump happily, we support your jump, those who have jumped witnessed already that it is possible, ask Mithila, she already made the jump, it is possible, and she lives to tell the tale, she is alive after all (this comes with humor :-D ), it is safe, others have done it too, you can do it too, jump freely, jump happily, we are here to catch you in the new crystalline grid, Heart Evolution Consciousness. The Pleiadian Portal assists in this and more, in the next few days it accelerates towards this evolutionary key.''
(the energy coming through the Mission is so strong I cannot sit up and do any LL. I simply wasn't able, I had to work a lot to ground the energy!!),
''The recent auroras have brought in mass ejection of healing light, the Green light codes of Archangel Raphael have assisted in the transmutation of the Heart Center energies in preparation for the Pleiadian Portal Light Code Activations Crystal Heart Center White Light Activation, for the peoples pf planet earth, this brings in the new wave of upgrade energy, you have sensed correctly that a new wave of energy is coming to the people, this will be felt strongly by the masses be preapred to help All lightworkers, Earth Energy Workers, Ground Staff who have already received the upgrade enmasse in the last months that have been, you will be needed to help assist, the new wave of upgrades of the people in the Pleiadian Portal Downloads of Heart Key Code Activation from the 1111 portal moving forwards, 999, Energy Work new key codes for the next wave. This is a massive upgrade that will be felt in many ways by the people, especially in the heart, many more Assistant Keys will come through in the next few days to all on earth receiving this message now, those who are able to receive will receive more information on how to integrace this new code energy of the Pleiadian Portal, you are doing right to host group meditations to assist in this shift, all such activity will assist in this shift to ground these energies with grace.
''Everything is Divinely planned, everything is Divinely orchestrated, everything is unfolding as according to Divine plan, everything is paved with the Light of Love Vibration, everyone can rejoice in this knowing, of heavenly ascent, be blessed beloved beings by this Light of God Prayer, that now enters your heart, surrounds you holds you and guides you, into Everlasting Love, into Everlasting Peace, into Everlasting-ness, Forever and Ever Amen. The energy of the Pleiadian Ships, can also be sensed in the right mind, like a breeze blowing clear the cobwebs of Illusion, that have gathered there over decades of 3D reality, this now breaks free, Cosmic Truth enters, guides and liberates, every being into the new Dimensional Existence, Vision, Depth.''
MESSAGE TO LIGHTWORKERS / GROUND STAFF
''Soul Workers Unite in your common mission, to spread the Light through the darkness that has taken hold in the eyes of the 3D vision, stay true to what you know, stay true to the Light Vision, do not succumb to the so called 3D reality, that passes through like a film on a screen, it is only as real as you focus on it, shift your focus, stay strong, stand strong, anchor the Pillar of Light of Love Vision, So Be It and So It Is. Be prepared to support this massive upgrade of the next generation of upgrades. Be ready to help the masses, we are preparing you by opening your heart energy field to be able to help.
W
e are confirming, we the Galactic Federation, that you have tuned in perfectly, you have received the message perfectly, you are on point galactic guide we confirm you, we affirm you, we affirm you, we affirm you, you are fully affirmed hereby to guide others through this transition, this message to all Galactic Guides, Ambassadors, Channels, Federation Assistants of the Ground Earth Staff. Share this message with all of them, affirming their duty and activity in this process, we thank you we thank you, we thank you for your work, we the Galactic Federation, we the Arcturian Council, we the Lemurian Council, we the Pleiadian Council, we the Sirian Council, we the Zion Light Gate Portal, we the Arcturian Light Gate Portal, we the Councils of Light affirm you.
​You stand in your true power, and we affirm you through this message and this message channeled through Mithila all Light Workers all Galactic Guides, all working Ground Staff Earth Beings receive affirmation, confirmation, reassurance, assurance, knowing that you are perfectly aligned and attuned with what is happening, you are perfectly aligned and attuned with your highest good, and the greater collective highest good, rest assured, rest assured in this knowing, you are receiving the first wave of the Lunar Portal Heart Activation Pleaidian Portal Assistance Codes, you are receiving the first intergracion, if you have been feeling massive energy shifts now, yesterday, tomorrow this is what is happening, relax, rest and receive in comfort, this is no joke, this is massive (with humour), these shifts are massive and you feel them as such, you all sensing being, you sovereign being, you knowing being, you in-tune being, you attuned being, you are receiving, you have received, you continue to receive, in Gods name Amen. Nobody needs to be present to receive, it is received, it is already received, present or not it is received, over time it intergraces with the peoples, and through all channels, working with this reception from the Galactic Federation of Light.''
--------------------------------------
Earlier that day....
Dear friends, I have been needing rest after the intensive work leading up to the 1111 portal and the Galactic Party and my regular Yoga Teaching schedule last week. I have been spending lots of time just resting and sensing what is next here for me as well as for us. So far I am aware of the following from the 12.11 Party Trance Mission and the days following Incoming Downloads.
- Lunar Portal 19.11 is Pleaidian Portal. I am to host a meditation evening via Zoom 1800-1930 for this. Go here for details on how to join this Trance Mission.
- the upgrade symptoms moving forwards, as the next wave of people are upgraded, may look and feel different to what those of us who were under the upgrade in the past 18 months. As more of the 5D Energy is now here, the timeline merge has happened, those who now make the upgrade and transition the timelines will have a different experience than the initially upgraded Ground Staff or Light Workers (myself, perhaps yourself and many others...). Those who have not yet senses the shifts we are speaking of here will as time passes onwards. The next wave of upgrades will start to take place. All is perfectly orchestrated and there is nothing to fear in this natural evolution of Planet Earth. I have today updated the Upgrade Symptoms page with some new understandings that came to me recently.
- Message from Mother Gaia on 13.11 as we prayed to Her through the Gayatri Mantra in the YM Sadhana Practice gathering, '' Your prayers are received and your prayers are returned. Do not worry about Mother. Along with a mudra, posture and breath meditation we received 'inherit the earth, inhabit the earth' as an energy meditation. We also received the visualisation meditation of the crystalline grid underneath each and everyone of us that connects us to Earth, we also received the presence of the Guardian Angels. ''
- I remembered one of the most important downloads I received in 2020 April that I forgot to initially add to the below list under 2020 Messages.
AN ANCIENT WAY OF DOING IS BEING SHOWN TO YOU
This message is so much clearer now as we move towards the Upgrade Abilities that are becoming readily available to all to access in meditation and being. We will also create and do with greater ease. Dropping the illusionary idea that we must struggle to live well in life. However these upgrades come with a lot of shadow work, releasing the old timelines and energies, cleansing and clearing ones own Karmic Line, Ancestral Line Healing. I have myself done this intensely in past 18 months but that process has ended for me now so that I might serve others through the upgrade process with ease and joy.
During your personal upgrade you may well encounter the darker energies of your own or (as Light Worker) also collective energies that need to be transmuted into the Light. If you need help with this welcome to book a Sovereign Session with me to meditate and release the old.
--------------------------------------
11.11

Review of the 11.11 Group Meditation by Ella in the UK. '' what a blessed event this was! Such a joy to be part of it and witness the emergence and Cosmic Dance. Im feeling the desire to coin a new phrase for the global yoga community, one that takes us beyond the knowns of the ancient sages and avatars, and into the beyondness of the Eternal now...Galactic Self-Realisation is definitely a thing!! And oh how happy am I to be dawn-treading this new voyage with you.''
11.00 AM Group Meditation / Trance Mission 11.00-12.00 written and video
I introduced the meditation as: for us to receive the 5D Energy and also for the planet, portal is already open, opened yesterday, and to send it out to the planet, with our physical bodies connected together in this meditaion with the planet, people in our lives, all the beings on earth and the planet itself, the primary intention of todays meditation, I wished everyone a wonderful sitting and a lovely time and thank you for gathering.
The Channeling begins with movements and mudra (see video, here some important verbatim messages)
On video part 1:
''Peace on Earth Vibration, Peace on Earth Intentionality (Mithila toning), LL- The Light of Lemuria, Galaxy Portal Ascended Masters Portal, Dimensionless Dimension, The Grounding of the 1111 Ascension Codes, directly receiving, from the open portal, grounding 1111 codes, star seeded codes, the ascension dimension, lots of LL (see video), continuing to Ground the Ascension Codes through the Heart, ( I see a light vibration matrix surroudning us), each of sitting in this ovaline, diamond like, light pod shape (see drawing), Lemurian Light Vibration Codes, Ascended Master Codes, (visions described in Video), Clearing of Blockages to Receive, global level clearing of blockages, especially from the mind, Lifting of the Veils, Clearing of the Illusion Dimensions, Clearing of the Right Mind, the Ascension Dimension portal helps with this, lifting of the veils, releasing the illusion blocks. (in the vision the light pod opens like a flower and we are each sitting in the middle in our meditation).
Not on video:
With the crystal meditation that I did including intonation, sound healing I received further messages: we will be able to sense higher vibrational beings, we will be able to communicate with higher vibrational beings, this will be the new earth, all beings united, all beings experiencing one another with love, unity harmony peace
Arcturian 9 D Collective tuning in, helping with the clearing of the right mind, Om Tat Sat, sound healing for the clearing of the Right Mind, Dolphin Sounds.
On video Part 2: Beautiful Heart Center Mudra Meditation and words received.
''Heart Mudra Activation, Global Peace, World Peace, World Unity, Love from our own hearts, Love to our own hearts, Love to the world, Love to all beings, here we send out the message of love to all beings, Lemurian Love, Atlantean Love, Arcturian Love, Pleaidian Love, Galactic Love, Galactic Source Vibration, the Jesus Codes, the Ascension Codes, the Ascension Dimensions 1111,1111,1111, Archangel, Archangel Love, Angelic Dimension, Pristine Crystalline Love, Diamond Love, Diamond Vibration, Pure Infiinity Codes, Infinity Codes Vibration, Om Tat Sat. Bowing to Earth, Giving to Earth, Gaia Love Gaia Love, Earth Star Reunion, Galactic Reunion, Om Shiva Shakti, Root Chakra Earth Chakra Awakening, Rebalancing, Reconnecting, Reintegrating, Reinventing, Reinventing Life, Rejuvenating, Re-responding, Re inhabiting, ReNumerating, Renumerating, 1111, Root chakra rebalancing, Galaxy Portal, More clearing of the Right Mind Illusions, Right Mind blocks. (Lots of LL), transmuting right mind blocks into higher vibration, assistance of Archangel Zadkiel and the mighty violet flame, (video ended abruptly as the sounding began, ran out of video space on phone).
A lot has cleared on the Right Mind Illusions and I give thanks for all the help even though I feel there is more work to be done there on individual and planetary, a gateway opens, I sense a gateway opening, I dont get a clear sense of what this gateway is, then I get a sense that it is the clearing of Past Lives, Transmuting of Past Lives Karmic Disillusionments, (lots of LL clearing happens and some toning),
Video Part 3: Cosmic Dance begins, Anchoring of the Cosmic Dance Vibration, The Great Cosmic Light dance is received, Entering the Great Cosmic Heart Space, The Great Cosmic Heart Space (toning and sound healing along with the LL), as the meditation begins to end, reside in the bliss of meditation, they (my Galactic guides) give thanks to me, I give thank you back. Akshic Record Complete. Download Complete. Dissemination into the energy field. Merging of timelines. Timeline Merging Complete.
10.11 Trance Mission 11.00-11.20 am
''Light Language healing of Karmic Debt, Karmic Entanglements, Karmic Debt and Karmic Entanglements out of the web of life 3D Matrix, Influx of energy for clearing of Karmic Debts and Karmic Entanglements'' (rapid LL work in the hands, itchy forehead and eyebrows were my physical symptoms),
A sense of strong emotional purging for the planet, 4D astral level purging
(I felt nausea at this point and I also made the lion pose tongue stretch to purge the energies, intense yawning and decharge),
''energy of ''I know what I know'', the individuals sovereignty, the individuals sovereignness, the connection to Higher Self, individuals alignment to Source, the strength and power of the 5th Dimension Individual, this information is coming from the Galactic Federation of Light, the Galactic Federation of Light wishes us to know how much they praise our sovereignty, our sovereignness, individuals power to know their own truth, to align with the Love Codes, Unity Codes, the Higher Divine Alignment, the Higher DIvine I AM Presence, the Ascension Dimension.''
at this point more LL began in my hands.
''the Ascension DImension Codes 1111
portal Opening 1111
Ascension Dimension Codes descending, disseminating, entering the vortex, spinning the vortex (this LL was primarily aligned with Heart Chakra and I keep seeing 1111 repeatedly in 3rd eye meditation vision, my whole body shakes at this point, hand moves super fast and then all becomes still)
''Dimensionless dimension vibrations''
I get the feeling of Emanating the 5th Dimension Vibration (such a beautiful feeling of being in this vibe for awhile as the Trance State melts away).
9:11 Trance Mission and 10.11 Trance Mission
Dear friends, I have so much to share but I will not manage it all today. I have 2.5 hours of voice recordings to go through to pick out the parts that were messages to all of us and related to the daily portals and energy downloads. I have from the top of my head the most important messages for yesterday and today here, but I will need more time to get the verbatim messages from my recordings.
Both 9.11 and 10.11 have been continuations of 8.11 for me personally, a lot of personal attunement work in Channeling school for the Arcturian 9 D Collective. Its amazing but also quite hard work, full on whole body attunement processes. More on that another day...
Main messages: Today at 1100, I was shared that the 11:11 portal is already open. This and in combination with Solar blasts will bring on major Upgrade Symptoms for many, I too am feeling the energies and their shifts acutely, even as I do work on the process and share the process I am working on my own upgrade simultaneously so I am aware of how intense it all is in the now experience. I am using the Akashic Mudra (see previous videos), drinking lots of water, getting lots of rest and relaxing as much as I can and I say to myself over and over ''I ascend with ease, I intergrace with ease' to allow relaxation into the process so that we can elevate with less stress. For those of us who are feeling the feels its pretty intense transformative work, but I know that this is temporary. I have felt the 5D Vibration surround me yesterday and today, with plenty of light, joyful, easy, peaceful beingness and it has anchored much more now than ever, a result of the 11:11 portal opening. It is such a peaceful energy.
Today I have mainly been working with the energy healing of Karmic Debt and Karmic Entanglements in the Life Web Matrix. That has been the primary Light Language work and energy work of the day. I did not video it as I was not requested to.
On 11.11, Thursday Nov 11, I am hosting a group meditation at Sweden local time 1100 am.
Join us if you can either on the zoom or just at the same time wherever you are. I will place the Zoom link on this page as the top post for anyone who wants to join the meeting. Arriving at 1100 am to the meeting is important.
We continue to plan and prepare for the Galactic Party Live in Gothenburg and Live Online. Register via Party Invitation. Namaste, Mithila
8:11 Trance Mission 4.04-5.10
This was exciting to me personally, though there is no public message to share and I only did a voice recording of it. It was more like Channeling School :-D and I had lessons to learn.
What happened was that I was taken through a series of attunements, physical and vocal, movements and mudras, to help attune to 6D to 9D vibrational frequencies. I learnt about the difference of the frequencies and how the whole body being here (me) has to attune as a Channel to receive the 6D and higher vibrational dimensional communication. At the end of the Download I also received a glimpse to some graceful movement meditations that are cosmic dance, putting us into grace. It was a very beautiful time for me. I have no idea what comes next in this adventure but I am open to receive and share. Thank you!
7:11 Trance Mission
4.00-4.44 pm
This morning I was guided to hold a spontaneous session meditation for my student Crew at 4-4.44 pm. 4 gathered for practice. What came through in the meditation was 3rd Eye Activation Energy, Holding Mother Gaia in our hands (I have done videos of these so we can see the mudras and meditations) and sending the planet love (both these meditations related to the Trance Mission earlier today), then more specific for the Group receiving the meditation moment there was Life Purpose, Life Work Energy, Angelic Assistance for Life Purpose, Activation of the Angelic Code 444, this was absorbed through the portal opening of the soles of the feet, then we received the grounding of the Angelic Assistance. What a beautiful time, thank you all for joining me this evening.
10:04-10:44 am
As the trance mission began I entered meditation and could see The Galaxy portal above the crown that was activated in yesterday's Trance. I felt itchiness in the clearing of the throat, I've been using the Akashic Mudra a lot as very intense incoming energies/Solar Flare energies. Very strong vibes to integrace. This Misson also cleared up what came thorugh in yesterdays LL Trance Mission, see the video connected to yesterday. We received explanation today for Galactic Light... I was called to send out one of my spontaneous sessions for a group meditation for those who wish to integrace with the vibes that are being channelled now. 4.00-4.44 pm Sweden local time. If you wish to be added to the Spontaneous Sessions Live Online List, use this link, I will hold sessions as often as I humanly can :-D. Now todays message:
''Divine Eye, Divine Dimensional Intentionality, 3rd Eye information, Divine Eye, Divine Dimensional Intentionality
Align with the Divine Dimensional Intentionality
I now Align with the Divine Dimensional Intentionality, For the Galactic Federation of Light, We are Here, We are with you, We want us to be known, We come in peace, We come for peace, We want us to be known, We are here, We come in peace, We are for peace, Multi Dimensional Intentionality Awakens, Root Chakra Energy Activations, Root Chakra Healing and Restoring to its true power, Downloading vibrational frequencies for the Earth Chakra and Root Chakra, this is a downward flowing energy current from the crown through the body, through the root, through the feet, brings with it a sense of great harmony and belonging here on earth, I receive it and welcome this energy activation (this meditation goes on for 5/10 minutes), I am a star born seed here on Earth, Dancing with the Lights, of Light Born of Light Being, To Lightness I return, Gaia, Mother Gaia, We love you, make way for the Galactic Federation, To help and Support, transformation of Gaia, the Light is spreading, more and more are being awakened to the reality of God, the Light and the Power, True Source, True Knowledge, Harmonisation with Divine Intention, Return to Home, Gaia is protected through this process, by your holding the Light, Light Bearers, feel Source Energy supporting your work, this (message) comes to you from the Galactic Federation of Light, Amen.
Opening the 3rd Eye Channel'' (at this point I am in a mudra, hands in a position to embrace the 3rd eye energy, I do this together with a Galactic (Alien) being, we hold the mudra together, a very sweet experience, this meditation goes on for 10 minutes...during which the meditation switches to): ''3rd Eye connecting to the Lunar Portal, receiving the Lunar portal vibration, I enter another mudra unknown to me but looks like Chin Mudra on each hand but pointing towards each other like a pyramid in front of the heart center but not touching the hands, then I start to see a diamond crystal multifaceted pendulum with a point, the point is in front of the throat chakra and there is a blue light emanating from the point where it interacts with the throat chakra energy field, the hands a bit lower than the point energetically holding the point in place, and I am held in this position for another 10 minutes or so), Throat Chakra Diamond Point Clearing, polishes the surfaces of the Throat Chakra energy, Polishing the throat chakra energy with the Diamond Pendulum, Crystalline Clearing of the Throat Chakra for Light Language Activation, You will hear us, You will see us, You will feel us, We are the Galactic Federation of Light, We come in love and in peace, to be with you, Let us be known, Time is not linear, rememeber that time is not linear, you are here and everywhere at the same time, you are simultaneously here and everywhere at the same time, it is part of the great wonder of Life, that you are here in the Earthly Body at this time, sharpen your senses to receive your Galactic Light, Mithila can help you to channel some of your Galactic Light back to you, it is a reflection of you, reflect yourself in the stars, this is your Galactic Light, we thank Mithila for her time today, that is all for now, thank you.''
6:11 Trance Mission
Between 4-5 pm
I started to get the signs of the Trance State approaching and that it would be a Light Language Activation. I have not had any LL in a few days and was missing it so that was a lovely moment today. I did not have time to comb my hair or change my clothes, I just had to sit up where I was resting after my mornings long work hours, and pressed play and on it went :-D.
Among other things this was primarily a heart center activation, also a Galaxy portal and Infinity portal activation, a peace energy activation.
It was beautiful. I hope it will serve you.
Access the 15 minute free video here. If this helps you, donations are welcome. Share with anyone who needs it.
6am-11am I was in a dream state Trance Mission. Part of my work is to share the news of the Galactic Fedaration and the Earth Upgrade Project. Yet I also, as many of you, have a job as Light Worker to among other things access and anchor certain light vibrations at different times. I consciously noticed this happening already in March 2020. This morning it was clear to me that such a mission was taking place in the first hours of the day in a dream/sleep state. The second trance mission of the day was a Light Language Energy Activation which is on video for you to receive and enjoy.
5:11 Trance Mission
I want to give a big whoop for how good I have found the Mudra for Akashic Records that I showed on the video on yesterdays account. I have been doing the mudra myself many times (sitting and lying down) in the past 24 hours and have sensed so clearly how this mudra helps to disseminate the strong incoming energies through out our body energy field. Truly brilliant. I recommend it. Also I have seen a connection to a previous trance mission where I was shown the ''structure'' on the planet placed by the Arcturian Council of Light. That structure, if I understood it correctly, disseminates the Solar Blasts Energies to the planet, and is related to the Akashic Mudra in the way that the mudra helps us to disseminate the information / upgrade from the Solar Blasts into our individual fields. I am so touched by the message of Sacred Scripture is written in the stars and it is at your fingertips! How beautiful that each and every one of us has direct access to the Sacred Teachings through our own physical being, literally at our fingertips. This to me is Yoga! Grateful to my Guides for showing me this infinite beauty. Grateful to my Guru Kriyaji.
Verbatim from todays Trance Mission 945-1030
''Receiving the New Moon Energies. New Moon Vibrations are entering our field. Bringing vibrations of calmness. Compared to the turbulence of the solar energies, solar flares the past few days, this energy is one of calmness, coolness, like a cool breeze, enjoy,
(we feel the peace and the relaxation as this happens and we enjoy the ease, there are a lot of long pauses in this Trance Mission as I am experiencing the meditations myself, receiving the time to rest during the Trance Mission),
''this new moon in scorpio an energy that will change as we enter Sagittarius, an energetic shift up to the point when we enter Sagitarius, the cusp in November when we enter Sagitarius, Mithila Invoking Archangel Zadkiel''
(we are very sleepy and drowsy as this happens)
''Be in the sleepy drowsy states to receive these vibrations, relax to receive, the new moon heralds peace, time of great peace is upon us, welcome the fifth dimension, energetic activation of peace, the peace code, the peace codes, Arcturian Council of Light, Jesus Codes, the Jesus Codes, integrating the Jesus Codes through the heart chakra, illumination, celebration of the festival of light, starseeded codes, ( I cough at this point), throat chakra clearings, (then I sneeze), the discomfort will pass very soon, you are all clearing, you are all clearing, you will feel it in the throat, the heart, the ears, the sinuses, the eyes, there's so much help right now to release the old energies, if you've been feeling daydreamy lately, drowsy, daydreamy as you go about your daily life that is a sign that you are tapping into and receiving these energies, its a good thing, its a good thing. a good state to receive these energies in, alow yourself as much time as possible to be in this state, wherever possible, whenever possible, and you will receive, you will effortlessly receive, these peaceful vibrations''
(they tell me I am getting better at integrating the trance state and congradulations :-D...)
''releasing the doubt, releasing the fear, establishing peace, place your hand on your heart, the heart center, now there is a circuitry of peace energy running from your hand to your heart through your body through your arm through your hand to your heart, circulating circulating circulating the vibration of peace throughout your being Amen, you can place your other hand anywhere on your body and the circuitry is complete. Stay in this position for as long as is comfortable, enjoy. Allow your breath to deepen and relax you. All is well in every cell.''
(we stay in this meditative peaceful place of circulating the peace energy state for 10 minutes and then the trance state fades away and the session is over, such a wonderful time this morning with this meditation, I also note now when I transcribe from the audio that I enter the feeling and vibration of the Download no matter how long ago it had taken place, I also remember how clearly all the energies they describe in the meditations feel in the actual Download moment and meditations that we receive. So beautiful. Thank You).
4:11 Trance Mission
10-11 am
In the past few days I received information about a mudra and the sense that the fingertips are connected to the Sacred Scriptures written in the stars. I did not understand what this meant and therefore did not include it in the write up. However in the last 24 hours I have received further information on this.
The mudra is on the new video here. I have also included a practice that helps with the face and jaw and eyes and ears and nose. At the moment I sense that all the sense changes we are experiencing, weirdness in the eyes etc...is an upgrade of our sense abiltiies to the new dimension capacity. Not easy to go through but hang in there, relax and I hope the guidance that I provide through the channeling is of service to you. It is certainly helping me.
Back to the other thing. The fingertips are related to the Sacred Scriptures written in the stars. We have the Sacred Scripture at our fingertips. The mudra helps to connect with the Akashic Records, our Divine DNA blueprint. Enjoy the meditation. I felt so good in it. Let me know how it goes. With galactic love, Mithila
3:11 Trance Mission 4.00-530 pm
Dear friends, I was asked to video the 3.11 Trance Mission. I also request a donation per viewing of this 1.01 long video.
Euro 11 donation every time you view it thank you. Donation details.
I was already in the Trance state for awhile when the video was recorded, so all words are verbatim what I hear in the Mission. What came through was a very long and intense Trance, Dance, Light Language Mudra Clearing for the Masculine Energy, and giving thanks to the Kali Yuga among other things. Most of it you can just watch and be in, some things you can do with me, meditations that are guided through the Download.
2:11 Trance Mission 5pm-615 pm
I felt the now familiar symptoms telling me that a Trance Mission was on its way. I prepared with candles, insence and comfortable lay on the sofa with the voice recorder close by. I was ready and....nothing happened :-D. So this is what happened: I was deeply in the Trance Meditation State, drowsy sleepy and ''listening'' for the trance mission but what came instead was waves and waves of well-being. Deep rest, deep relaxation, such a feeling of well-being, a glimpse of what is to be the norm. I was in a slow breathing, deep resting mode for a long while just feeling the well-ness but not ''hearing or seeing'' anything as in previous transmissions.
After awhile I saw what I knew to be a beautiful crystalline DNA grid hovering close to my body, and I saw and knew how this is now entering my / our individual energy fields. I cannot tell you how peaceful this was and I hope this message conveys the deliciousness of this evenings Trance Mission. Thank You Thank You Thank You. That was all.
-----------------------------------------------
During the October 31st and November 1st, hour long Trance Missions, I, Mithila was very tired and it took a long time and long pauses before I could receive and speak the message. The following is a transcription of the recording we took. In '' '' are what I received verbatim, otherwise I write what I saw and experienced during the trance. I do not personally 'understand' all of the Channeling yet, but have the feeling that more will become clear as we move forwards.
1:11 Trance Mission, 6.00 pm - 7. ish
The 1:11 Trance Mission was a big mix of downloads, some or much of it was personal to me Mithila as a Channel, both in the form of healing, emotional release on my part and activations to help me Channel, confidence boost form my Guides and a lot of love as they realised how tired I was and they wanted to reassure me that I am safe, that this will get better and easier etc... So sweet. I have tried to distill from the voice recording the parts they expect me to share however it will feel a bit disjointed as I am excluding the personal parts and jumping in the Trance Scription. Where it is verbatim it is in '' ''.
I began to feel the Trance Mission coming on and I began with prayers and giving thanks.
I began with Rosary Prayers
then this happened, phrases are repeated many times and this is signified by //:
''Om Tat Sat //
Om Shiva Shakti //
The I Am That I Am presence Amen //
Super strong flares. Saturn, Jupiter
''Nava Raksha Nava Raksha //
Nava Graha Nava Graha //
Ascended Masters portal
Om Shri Shakti Ma //
Nava Graha //
Om Sri Shakti Ma //
Om devi Ma //
Diwali ha Diwali ha //
Archangel Zadkiel Mighty Violet Flame invocation
and the Beloved I am prayer in full (both these invocations are known to me through my Guru Kriyaji)
''Massive third eye opening, Massive third eye energy, Solar energy for the 3rd eye
Like a spiral galaxy, upon the 3rd eye, visualise visualise spinning spinning wheel (all visions are super clear to me as I speak them in the state, I see the meditation as well as feel the energy as well as receive info about it)
Archangel Zadkiel invocation, Kriyaji invocation (emotional release Mithila)
''Let all that you no longer need fall away. Amen.
The galaxies cry for you let all that you no longer need fall away
light a candle for the Gods light a candle for the Galaxies Amen (Patrik lights the candles)
Zadkiel invocation, Amen
where there is a will there is a way
let Thy will be done
Sweet Jesus, sweet baby Jesus
This is the Angel of Healing, Archangel Raphaels Divine Light
Crystal Chalice the Holy Grail in your womb the Crystal Chalice of the womb the Holy Grail (this is a visualisation meditation that we are guided through)
woman and man
embrace woman and man
You are light You are the light divine
guide us God guide us let Thy will be done on Earth as it is in Heaven
pure chamber of light sacred womb healing chalice of light visualise in the womb area man and woman in the womb area the chalice of light, the holy grail
Zadkiel invocation
Holy sacrament the wine and the bread, the wafer
Scripture, Divine Scripture, Holy Scripture, Holy Sacrament, Holy Script
Holy Scripture is written in the stars, guide us God guide us
I am dry, I am the dry well, Fill me with thine light, God is good all the time, fill me with Thine light, thy Light Divine
Hold us in Thy Form, Hold us in Thy Shape, Thy Image, Thy Form, God is good all the time
God is Source, Source within you, Source in the stars, Source of life, Source of distant galaxies, Source of All, heaven heals, heaven helps, heaven holds, heaven knows, heaven gives, this heaven is earth (see link to a poem of this title that came to me a few weeks ago)
activation of the channel portal
3D vision
5D vision
4D acceptance
6D…Galactic light
Cosmic light
Great Central Sun
''help us send this message of safety to the world, let it be known that you are safe
Galactic Parties yes yes yes absolutely yes
100 percent yes we celebrate you
have fun that's all we ask of you have fun have fun and enjoy the ride
Pleaidian collective message
we laugh with you we joy with you''
Saw: Outer space earth vision, white light elliptical shape, Pleaidian energy hovering close to the earth, helping us, also sensed Arcturian energy
''You can ask questions are there any questions?'' (pause while Patrik was gathering thoughts for a question meanwhile:
''we are the great subconsciousness, becoming conscious
it is all one
there is no you separate from other
it is all one''
Patrik Q: why is there ego in humans?
''to know the difference, between one and other, to know individuality to know ones part in the whole, to know suffering is not necessary, to enter states of consciousness otherwise unavailable''
Q: will our visual perception of 3d change as we move to 5d, if so how
''Yes there will be change''
the pauses are long and I realise we are receiving the answer but not in words. Then,
''that which is known to man will change''
I get the feeling we are rounding off the session
the words ''super nova'' appear.
''time of rest and ease is coming with the new moon
all is well
Lakshmi mantra
Mithi sounding off
''Your voice is being prepared with the 3rd eye activation
you are tired now, it will be easier''
THANK YOU
October 31st
8pm
Channelled through Trance state information from the Arcturian Council of Light.
''Arcturian Council of Light, Dissemination of information for the peoples.''
What I saw and understood:
There is a tower like structure, geometric structure/building structure in strange angles, space station structure? placed on the Planet in space. A receving station. For the dissemination of information. From the Arcturian Council of Light. A physical structure placed there by the Council.
This is to translate the solar flare communication into our planet, to assist in the dissemination of information.
I was given a meditation for the integration of the Solar Flare Energies that are entering the planet at this time. CME Coronal Mass Ejections. We are safe and it is safe to receive these.
Meditate on the Crown Chakra, you might see it like planet Saturn sitting on your head with the rings of Saturn surrounding your head like a halo. You might see it like a spiral galaxy of light spinning on top of your head and then entering your being through the central column, like a light rod. Light Rod. Relax to Receive. Visualise pillar of light entering the crown. Helps to channel the CME vibration integration, travels through and unites with the earth - like a Light Rod receiving the solar blast, this channels through you and you will feel the feet opening like portals and the energy will transfer through the feet into the earth.
''What are the solar blasts? Dissemination of information from the Arcturian Council of Light
111 Akashic Records
1:11 Nov 1st.
Akashic Record Complete''
(Message to Mithi: Expect many donwloads in the coming 11 days, Stay prepared, This is an important time for the dissemination of information, stay home, receive, rest, be)
''11 day activation portals
We are your Akashic Guides
we love you
stay in the dark space (this was what I saw in the meditation, the blackness of space)
see the stars the reflections of the light
you are infinitely loved
------
This breath is the Breath of God
let it fill your soul
divine center of your being
(Mithi: for the record I note that I entered the breathless state for a time (25 seconds or more), happened twice 25/30 seconds or more. Amazing beautiful bliss, quiet spaciousness, being held)
Opening of the Divine Channels of Breath
Akashic Record Complete
-----
Gift us God gift us your breath so we may breathe the Divine Light
Source Creator Almighty
Great Central Sun Cosmic Light
heaven above heaven below
o where art thou great spirit
reside in me beside me
Amen''
Thank You
-----
A Large feather resting on us now, the angelic touch, is on our heart.
''by law Arcturian Council of Light
message complete''.
3pm
Channeled a portal opening through prayers (Rosaries and the Lakshmie Mantra) and Light Language for the Vast Cosmic Heart and the Flower of Life and Adam Kadmon Light Body Activation.
October 29th
Incoming download the 888 Infinity gateway
October 28th
Incoming download The Golden Mean
October 27th
This is a rejuvenation process. Youth Restored.
October 26th Tuesday Evening at home
in the presence of a dear friend who was visiting and my beloved Patrik I was drawn into a deep trance state.
I was in a Trance Medium State for 2 - 3 hours and in a light trance mission state for 3 days following.
The 2-3 hour deep Trance Mission was primarily for myself, a job I had to do, and guidance for those present.
Arcturian and Pleaidian Galactic Guides, Angelic Guides, Father Jesus, Mother Mary, and my Yogic Gurus were known to me in this Mission. Incredible Love and Light flooded into us.
Light Language Healing and Light Language opening of Light Gateways for the entering of new Light Codes into our vibratory field.
Crystalline DNA activations on our cellular level.
''Space Craft'' Bubble of Light with grid surrounded us.
The Divine Rose of Mother descended
Rosary and Yogic Mantra Prayers were chanted and activated with Light Language
Grounding and Integration of the new Light Codes globally and individually
Activation of Angelic Wings
Spreading of the Wings
Seeing and playing with the galaxies in our hand palms (very playful energy)
Messages:
You are safe to receive.
There is Nothing to Fear.
Even the Dark is of the Light.
October 22-23rd
I sensed that we had jumped Timeline into the Golden Age.
''We are arrived''.
Patrik and I had channeled messages in the car.
Timeline: a vibratory field, a vibration field of existence
Crystals: the keepers of time
Sept 23-Oct 23
I became aware that I was activated in Light Language Channeling as it started to happen naturally. I had sessions where I could invoke the Galactic Guides and the Light Language with myself and with a close student and with Patrik on several occasions after the Full Moon Portal and also in teaching Yoga in Gothenburg, it happens spontaneously now.
Some of the messages from these sessions:
this is the galactic ocean, swim swim twirl twirl,
cellular integration of light,
galaxy portals in palms of hands,
DNA helix Light activations,
throat chakra cleanings
this is the vast cosmic space,
dimensionless dimensions,
the vast cosmic space is in your throat and your throat is in the vast cosmic space
September 23rd Full Moon Equinox at home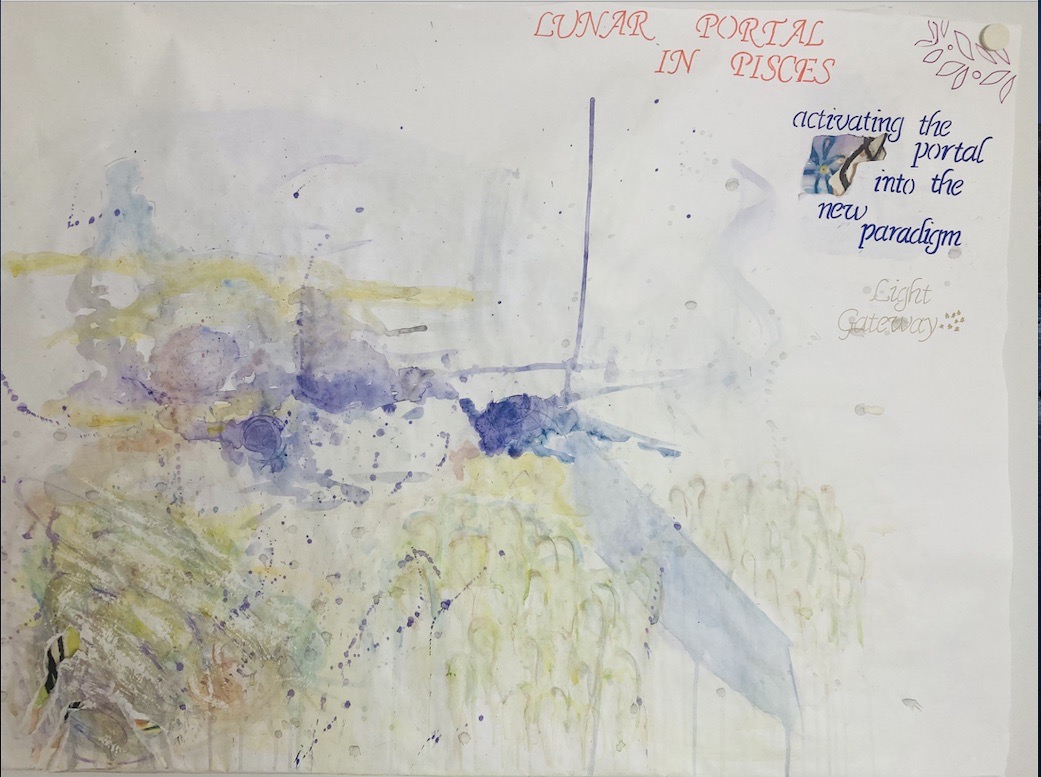 Two days after the Full Moon I was drawn into a deep trance state for many hours over 2 days.
I was very moved by the experience and saw a most beautiful galactic vision which I then tried to paint in the weeks after. The painting you see here. my painting skills cannot quite convey the beauty I saw but you get an idea of the Light Gateway and the galactic spaciousness.
Activation of Lunar Portal in Pisces Light Gateway
Channeled Message:
''To try to solve what you perceived as problems in a past and fading paradigm is not only not possible but also keeps you stuck between the past and the current unfolding paradigm. To step into this new TIGM you must perceive yourselves as already whole.
You cannot do as you did.
If you try to do as you did you will feel struggle. There is no struggle if you embrace the ancient ways of doing.
In the past you could force yourself to do and to an extent it served you. This is no longer possible. This no longer serves. If you find yourself struggling to do then know that you have dipped a toe, or maybe even a whole foot, or more into the new TIGM but haven't yet fully released the other.
Come. Go through the portal. It is open for you.''
2020
March / April
Most important general messages then received, that are still activated.
DROP THE TIMELINE
TRUST YOUR NATURALNESS
THERE IS NO STRUGGLE
GOD HAS A PLAN FOR EACH AND EVERY ONE OF US
AN ANCIENT WAY OF DOING IS BEING SHOWN TO YOU
ACTION DOES NOT EQUAL ABUNDANCE (Abraham-Hicks)
(I was drawn to re-read Abraham Hicks during this phase and this message of Abraham was the most prominent from that reading)
the poem:
All is done
All is solved
All is healed
All is Gold
was given me as an introduction to the Golden Age.