We are a colourful bunch. We live close to laughter.
We are also very serious students of Yoga and Spiritual Practice and Study.
"Daily Does It" and "This takes practice" are our mottos.
Coming to a place of daily spiritual connection through Yogic Teachings is our path of practice.
We practice meditation/prayers and/or breathwork and/or physical yoga movement practice every day
(with some exceptions naturally!).
Ideally for at least 15 minutes and often longer because it is just so very good to connect and master our own energy daily.
Join us!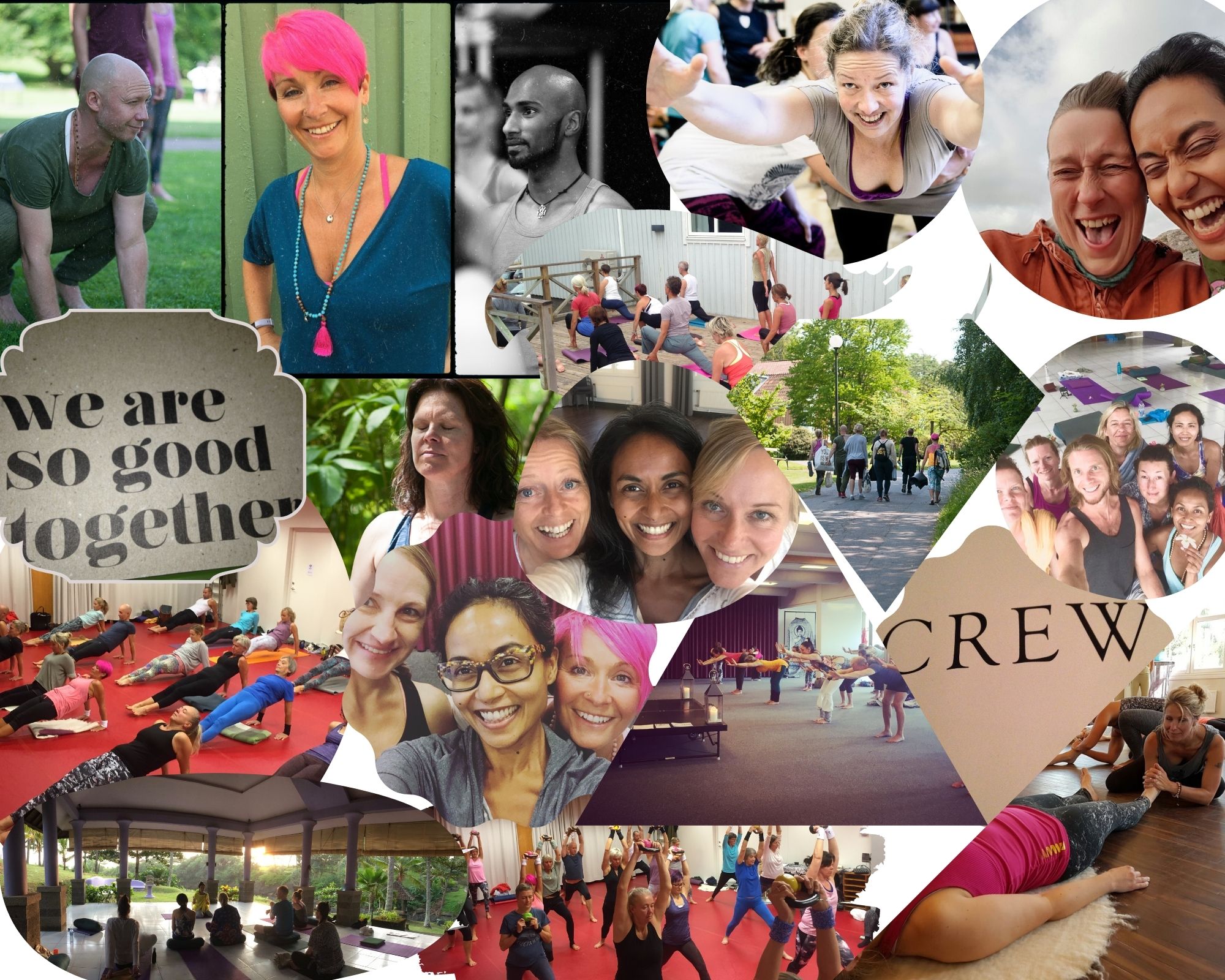 The YM Community (Sweden and Global) communicates primarily through e-mail and websites. We use social media but we do not wish it to be the main source of community connection as we are not super active on social media ourselves and we do not expect YOU to be on it to be part of our community.
Those within the community have access to free material, subscription based websites, community events and special discounts and offers. We are currently working on creating an online community messaging board/sharing space via our websites to be ready by 2022 so that you in the Crew can all connect with each other.
Public YM Community
1) Join Mithila's Monthly Museletter for direct updates from Mithila or simply check in here on the website. All the YM Professionals have their own websites and contact info. See Crew.
2) You can follow Mithila @yogamonks on Instagram and on the Facebook page yogamonks for updates from the YM Team. We handle all events/registrations from our website or e-mail, so you do not need social media access to attend anything that we offer.
3) For video related free material you can also follow Mithila on Vimeo. For an easy overview of Vimeo Showcases go here.
Inner Circle YM Crew
1) All of us YM Professionals connect directly with our community of students primarily via e-mail or websites.
2) Most of our activities/schedules are only visible to our inner circle community of practitioners. This rarely shows on the website or on social media.
You become part of this community when you...
...Online Self Study
When you practice with us on our online only courses and classes, you receive e-mails from Mithila with relevant information to you. Once a month or so. All our online classes are available from the top menu and the front page.
...Study the Sadhana Program with a Teacher
When you study YM yoga classes or YM Sadhana with a YM Professional on a Course, Class or Private Session you are kept in the loop of community events directly from your teacher via e-mail once or twice a month.
...join the NEW Spontaneous Sessions with Mithila
Mithila has just started to offer Spontaneous Yoga Sessions Online LIVE via an SMS messaging system. To join this community and be on the receiving end of spontaneous classes go here.
...become a YM Professional
When you study to become a YM teacher you join also the Teachers Team, another community within the larger YM Crew.